Bedroom Paint Color Please!
by Tanya
(Chicago, IL)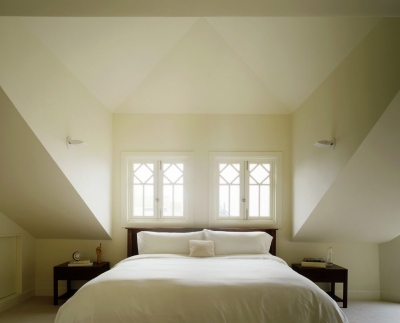 My bedroom is similar to this room
Dilemma:
I have a small room with wooden flooring (I still have to choose the color but I think a darker color will look better) and wooden cupboards.

My room has a tall ceiling which extends to the wall behind the bed area, which has square hollow area.

Being a 19 year old girl I want an elegant, different and lively room. The room should not look dull.

I don't have an exact picture of my room but it somehow resembles the enclosed picture. I have to start from scratch and choose a theme for my room.
Critique:
Tanya, if you are
starting from scratch
, I would suggest that you buy your bedding, wall art and other accessories FIRST. Because those items will determine your
wall paint color
.
It's much easier to
match paint color
to fabrics and decorations used in the room, than the other way around. And once you have your bedding and drapes in front of you, you will be able to
pull paint color ideas
right from them.
Seeing how
irregular the shape of the walls and ceiling
is in your bedroom, you will want to
paint the whole thing the same color
(to help "disappear" all the awkward corners and transitions).
For this reason, it's best to choose the lightest of the accent colors to match your wall color to, or a
harmonious neutral
.
And to get your creative juices flowing and discover your personal decorating style, try the exercise in
this tutorial
.
I hope this gives you some direction!