Which Paint Colors are Right for This Great Room?
by Mike
(Tyngsboro, MA)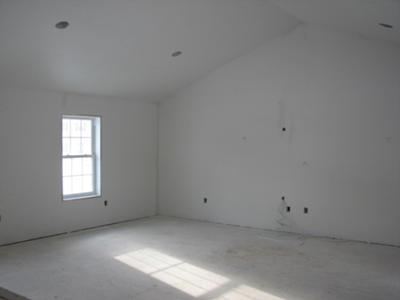 We need to choose paint colors for this great room
We are selecting paint colors for our new great room. It is 22x22 and has cathedral ceilings.
We want to make the wall at the far end of the room an accent wall - this is where our TV will be mounted as well.
The ceiling is already white. The walls are just primed.
Here is a list of the colors we like (from Pittsburgh Paints):


Silver Charm


Antique Silver


Elephant Gray


Gibraltar Gray


Oswego Tea


Slate Pebble


Dover Gray


Which of the colors will be right for this room?
Yelena's Response:
Hello Mike,
to start off, let me tell you that yours is a classic example of how NOT to choose paint colors!
Based on the photo and information you gave me, any of the colors from your list will look great on the walls... until your furnish and decorate the room.
***z-adsense-med.shtml***The most important point to remember when picking paint colors, is that it's not about whether your paint color will look good on the walls. It's about whether or not the paint color will look good in the context of your decor!
So please read
"Planning Home Color Design"
to learn the right order of doing things in a new construction home. That will save you a lot of money and frustration, I promise! :)
If you are NOT planning
to furnish and decorate the house, I can give you a few pointers about the colors you pre-selected.
Silver Charm
and
Slate Pebble
are the only 2 colors suitable for the walls in this case. The reason is, the room doesn't get enough natural light and so doesn't lend itself to the darker shades.
Which one you choose will depend solely on your preference (because we have nothing to coordinate it with in the room).

Silver Charm
is the "dressiest" on the list - it is blue-based and on sunny days, it will look more blue than gray.

Slate Pebble
has violet undertones and is warmer in comparison. This shade is more serious and masculine, and may appear taupe-ish (depending on the light).
The rest of the grays on your list are too deep to be used on all the walls - but a couple of them will work as accent colors:

Dover Gray
will work in combination with Silver Charm;

Elephant Gray
will look great when coupled with Slate Pebble.
Finally, here's a couple of tips to pulling off dark paint colors:


consider glazing the accent wall (the shiny finish will reflect light and cheer up the room)


keep your flooring and furniture very light to balance out the heaviness of the deep color


I hope this gives you some direction!
***z-c20-links-interior-color.shtml***