Red Barn Paint Color and Texture on My Living Room Walls
by Sabrina
(Sherman, TX)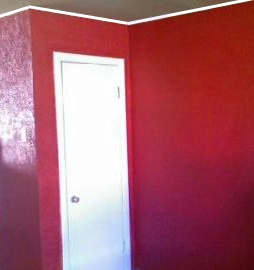 Barn Red Paint Color with a Texture
When I purchased my first home, it was known to both my husband and I that it was going to be a very large project.
The first thing that we decided to do was paint out living room, since it was the main room of our home and the first thing that everyone sees when they come in.
***z-adsense-med.shtml***
We figured we would feel most accomplished by starting with this room, since we will see it so often.
We decided on a deep, dark red (barn red paint color) because it is so bold and bright, and we had lived in a WHITE apartment for our entire relationship.
We went to Walmart and chose a good color and had it mixed. We read up on wall texturing online, and found a video about a texture that you do with mud and a brush.
We went to Lowes and bought a bucket, mud, and the same brush they used online to complete our project. It was fairly cheap, which we needed since we were remodeling our entire home!
We had to go back to Walmart to get primer, which we read was very important to cover up the existing horrid green color that the house had been painted.
We put the first coat of primer on and it already looked amazing. We put the texture on, and it took a few times to get it the way we wanted it to be.
First the mud was too thick, then too liquid and thin, but for first timers I think we were doing a good job. It took a few coats of the red to get it all covered, I guess that's what we got for buying Walmart paint. But it finally turned out a rich dark red and we were very pleased.
It has been about 3 months, and we are still in love with it. The only thing that is bad is that when something falls against it, it kicks off all the texture and leaves little white bumps. Otherwise, I would recommend it to anyone.
***z-c20-links-red.shtml***