Bold Red Feature Wall in My Dining Room
by Rachael
(Colorado, USA)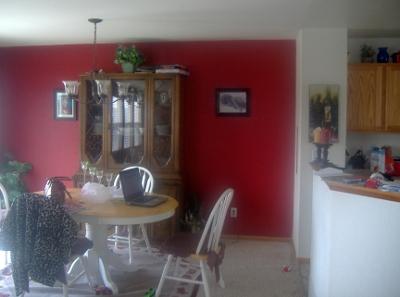 Bold Red Feature Wall


My husband and I purchased our first home in May of 2007. When we moved into our new home, the walls were stark white. I appreciated the cleanliness of the look of white, but wanted to add some personality and flair to the home by adding color, and decided an accent wall would be perfect for what I wanted to accomplish.

Our downstairs is a large, open floor plan, with one room running into the next, and I wanted to add dimension and color to offset where the dining area in my home is.
I chose red because it is not only my favorite color, but it also looks great on an accent wall against some other white items, and black and white pictures. I chose the exact shade of red I wanted from a local home improvement store and got advice from a paint expert in the store on how I should best tackle my project.
They suggested a tinted primer in order to get the most vibrant color I could, and several coats of paint, allowing them all to dry in between. It was also recommended that I take an entire day to tape and caulk in order to get precision lines and as little bleed through as possible.
It took three days and five coats of paint, but I have my red wall, and I love it! While it was not the easiest job I have ever done, it certainly was gratifying to do the job myself.
See also:
Creative Accent Wall Painting Ideas