Peach Wall Color in My Mother's Room
by Traci
(Florida)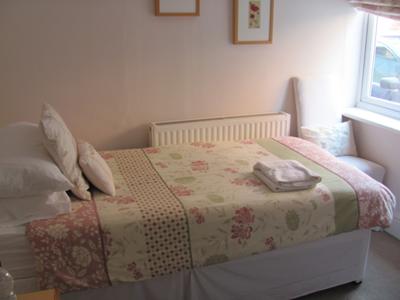 I painted the walls pink/peach to make Mom happy
My mother was recently living in a nursery home, but after a little incident, I decided I didn't want to rely on people who I knew nothing about to take care of her. So I took her out and moved her in with my two children and I.


Moving her in was very exciting because I felt now I can give back and show how much I appreciated all the years she gave raising my brothers and me.
I wanted to surprise her with her room (I live in a three bedroom, two baths apartment in which one of the rooms was used as an office).
So I went to work, I wanted it to be perfect. I watched a lot of "Extreme Home Makeover" to get some ideas for her room.
I started with the paint. I knew her favorite color was pink, but I didn't want to just use any pink, so I went to Lowe's for ideas (I never knew how many shades of pinks there were).
Anyway, I came across this shade that was between "light pink" and "misty rose" (which is like peach), which also reminded me of her famous peach pies!
I was going for a relaxing and vibrant welcoming vibe. So my mind was made up, I had to also find bedding and furniture to fit in with the theme.
On the move in day when I opened that door she was just mesmerized, I could see it on her face (very emotional moment).
I mean she loved it! She told me it reminded her of when she would visit her grandmother on the weekends...
Click here to share your paint color idea and see your name in lights!