Paint Color Advice for Living Room, Dining Room and Entry?
by Jeanne
(Riverside, CA)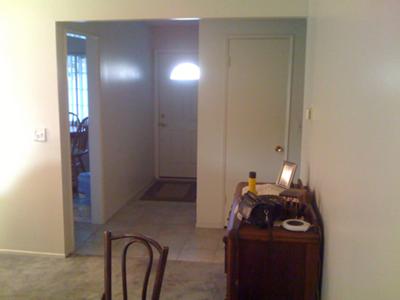 Dining room looking towards the front door entry
Dilemma:
I just bought a new house along with new furniture. I would like to paint but need help as I want to go with green shades (sage), along with having some accent walls.

The furniture is dark brown with shades of burgundy, so I would like to warm up the room. Possibly a dark green accent wall behind the couch, with light green walls and white trim?

We plan to add crown molding, pull out the carpet and go with wood or slate flooring.

When you walk in, I have an entry way, go left to the hallway, straight to the open dining room, and to the right is our living room. This means paining the entry way, hallway, dining room and living room.
Critique:
Congratulations on the new home, Jeanne!
I have a few suggestions for you:
You said you'd like to
"warm up" the rooms
, but sage green will not do that - because it is
gray
based. It will add some color, but not "warmth".
In fact, without
good natural light
sage green can look pretty drab, and in your case (lack of light and dark furniture) it can really shift the mood towards the gloomy side.
Besides, all your wooden pieces, leather couch and even your artwork have warm, golden
undertones
. So in order to bring them out and enhance the warmth of your decor even more, your wall color needs to have a
yellow
undertone.
Here's a beautiful chartreuse (yellow-green) that will work great in your home:
9027 Pale Moss
from
Sherwin Williams
.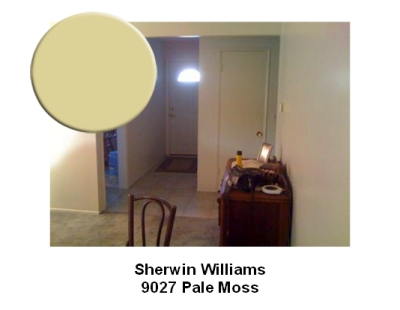 This interesting chameleon-like color will change with the light, and look more yellow in some areas and more
green
in others. You'll love watching it shift!
Now if you want to add an
accent wall
to your living room, it should be the wall with the fireplace. The reason is, that wall is a natural focal point in the room - any other wall with an accent color will only compete for attention and add confusion.
Also, I would paint the accent color just on the upper part of the wall.
I recommend
6423 Ryegrass (Sherwin Williams)
as an accent color - it is a lovely green with just a hint of yellow to it.
It will harmonize with the chartreuse and add some vibrancy to your
home color scheme
. Here's how they look together: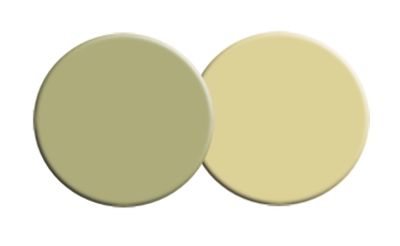 Let me know what you think!
P.S.
The colors may look very different on your monitor, so make sure to see them in person before buying paint for your project.