Need Accent Colors for Painting the Outside of Our Beach House!
by Lisa
(Ohio)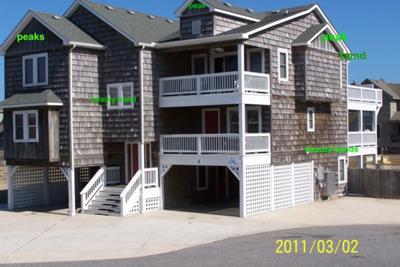 Front view of our house
Dilemma:
We want to paint the peaks of the house and the beauty bands (the wooden boards that go around the entire home).

All the railing is white, so we don't know what color to paint these... we were leaning towards a sea-foam color, white, or a lighter grey than the house.

I have no talent in decorating so please help me!!! Thank you very much.
Critique:
Hi Lisa! I think it's a good idea to add a little color to the peaks and
trim
pieces. It will be a pretty easy makeover, and a nice change to the overall look of the house without doing anything too dramatic.
Now as far as the accent color, I say the
gray
idea is out because you already have a lot of gray on and around your house. To make your painting project worthwhile (that is, to actually liven things up), you need to add a punch of real color, not more gray.
Next,
white
is also not a good option here. The thing is, the white of your railings and lattice is too bright for the wall color, and the result is already a bit disconnected and harsh. Adding more wrong (white) won't make things right (or better).
But I do love and approve of your teal idea, and here's why:
1)
A blue-green color will coordinate beautifully with all the different shades of gray and
brown
I see present in the wood shingles and fences.
2)
The right shade of teal will serve as a "bridge" between your
too clean
white and too murky gray/brown, and correct the color imbalance (next to teal, the white will finally look like it belongs in the scheme).
3)
And last, a sea-foam hue will relate to your inground pool, tie it all together with one common thread of color, and reinforce the "beach house" color theme. Win-win-win.
So let's look at the actual shades I'm recommending.
This one is an aqua color that sits almost perfectly between
blue
and green (it's called
Nostalgia
from
Valspar Paints
):
And this teal is leaning a bit more
green
, to give you another great option (this one is called
Baritone
from
Olympic Paints
):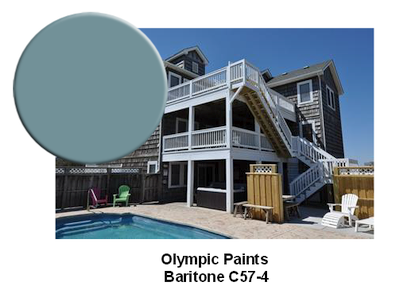 Keep in mind that both of these colors could be one shade
darker
, because color is so different outside (it kind of dissipates like sound does, and bright sunlight can especially
wash it out
).
So as always, be sure to
sample
everything. In your situation,
put some on an extra piece of wood/cardboard
and stand back, because
from a distance
is how exterior colors should be viewed and judged.