Need Accent Colors for Painting the Outside of Our Beach House!
by Lisa
(Ohio)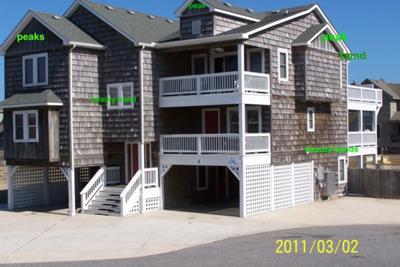 Front view of our house
We want to paint the peaks of the house and the beauty bands (the pieces of wood - not wood shakers) that go around the entire home.
All the railing is white, so we don't know what color to paint these... we were leaning towards a sea foam green or white, or a lighter grey than the house.
I have no talent in decorating so please help me!!! Thank you very much.
Reply from Paula Pavlik-Douglas (our contributing expert):
Hi Lisa!
One of the best things about shake shingles is the beautiful muted colors you get when it starts to age.
That being said, I would advise against too much color or anything too bright.
I think a greenish paint color would look nice, but not too light or bright - maybe something with some gray to it.
The pale gray would work too. It would lighten things up a little without adding more color and also help blend in your white railings nicely.
So, okay, try these Sherwin Williams colors:
SW 7641 Collanade Gray
- this is a nice light/medium gray. It's hard to tell if this would contrast enough. My experience with it outside is that it's pretty light.
SW 7637 Oyster white
- this might have a little green undertone to it, which would get you your green, but still be a light gray:
SW 6162 Ancient Marble
- it's still light but definitely more green:
SW 6182 Ethereal White
or the one below
SW 6183 Conservative Gray
:
In fact, all of these could be one shade darker, because color is so different outside. It kind of dissipates like sound does, and some of these lighter ones might just look white.
As always be sure to sample everything. In your situation, put some on an extra piece of wood and stand back, because
from a distance
is how exterior colors should be viewed.
I think it's a good idea to add a little color to the peaks and trim pieces. It will be a nice change without getting a too dramatic change to the overall look of the house.
You may have to play with the gray/green a little bit to make sure the green doesn't get too "minty" on top of that medium gray of the shake - that's why gray might be the better way to go.