Who is Best at House Painting?
New Jersey Contractors to Avoid

Here's what you should know before you hire someone for house painting: New Jersey painters all specialize in different areas.
Some focus on industrial or commercial painting, others on new construction painting, and then there are those who are best at residential house painting.


---

Oftentimes, when homeowners are disappointed in the quality or service they receive, the problem really comes from having chosen a wrong type of painting contractor for the job.
Because you see, even though no one industry sector is better than the others, they are all different, and call for different skills, experience and expertise in different areas.
Unfortunately, that doesn't prevent many painters from trying to do the work outside their area of expertise (especially during their slow times when they are desperate for any business).
But for homeowners that is bad news because there is only one type of painting contractor who understands their needs and the unique challenges of house painting. New Jersey contractors who specialize in this area are called residential painters and as you will see below, they are homeowners' best choice.
Industrial, Commercial,
New Construction and
Residential House Painting:
New Jersey Contractors at a Glance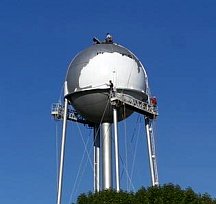 Industrial painters apply protective coatings to storage tanks, steel structures, bridges, water towers, etc. and are experienced in sandblasting, abrasion, steam cleaning, chemical treatments and other methods that homeowners are not likely to ever need.
And of course, you can't expect these "big-picture" painters to be good at anything detail-oriented that is necessary when working in a home.
Commercial painting requires the right equipment and enough manpower in order to paint hotels, casinos, movie theaters and malls - sometimes dozens of buildings at the same time within a month, so the painters often have to work at night in empty buildings.
They are great at fast production work where again the big picture is more important than the details.
New construction painters do sub-contract work for builders and general contractors. Their main strength is spray painting - usually using off-white builder's solution/paint throughout the entire house to hide various surface imperfections.
They also do their work while there's still no furniture or flooring, so keeping things clean is not their strongest suit.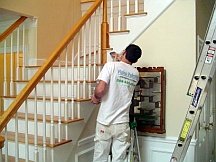 And finally, there are residential painters, who specialize in custom painting.
Residential/custom house painters work directly with the homeowner - which requires excellent customer service and communication skills, much higher quality standards and attention to detail, understanding the homeowners' needs and being able to meet them.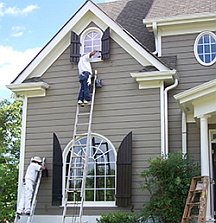 Since residential painters work in fully furnished and occupied houses, they must be able to work in a way that causes the least disruption to the homeowners' daily life - keeping the work area clean and organized, taking extra care to protect furniture, flooring, decorations and other surfaces not to be painted, no loud music, adjusting to the homeowners' schedule, and so on.
Residential painting contractors are knowledgeable in products and materials for different surfaces and situations - from wood to aluminum, from a beat-up exterior to new-born baby rooms and everything in between.
And of course, they are experienced in many techniques - custom brushwork, wood staining, faux finishes and others that help personalize a house and make the homeowner's vision a reality.


---

So, as you can see, those 4 sectors are too different, and it's humanly impossible to be an expert in all of them (even though some New Jersey painting contractors claim they are).
That's why for the best results, and for one less chance for disappointment, always try to match the job with the right painter.
And for house painting, New Jersey contractors who specialize in residential custom painting make the most sensible choice.

Need a Quote for House
Painting in New Jersey?


See Also:

Gallery of a House Painter: New Jersey Projects

Should You Hire a NJ Painting Contractor or DIY?
4 Worst Places to Look For Quality New Jersey House Painters
Guide to Choosing the Best Painting Contractors in New Jersey