We Painted a Brown Statement Wall in Our Living Room
by Metramade
(Morgan, SC)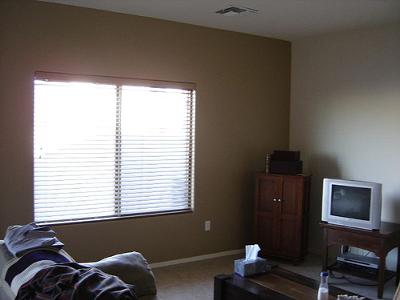 Brown accent wall
This is the accent wall that is in the living room of our house. We decided to go with an accent wall because we felt that it would be something different to do instead of just painting all the walls the same color.


We didn't really want to go so far out with the color of paint, so we kept it really simple and used something that would go with the carpet.
I'm not sure if you're able to see it from the picture, but the other walls are more of a beige color and the ceiling is white.
We thought long and hard about what wall to use and I'm still not sure if I'm completely happy with what wall we chose, but this is what my husband wanted.
We would have picked the wall that the couch was up against, but our couch is sitting in the middle of our room. So, we don't have that to help us. I think this was the next best choice because of the large window on it.
We did all the painting ourselves and you really should look into buying some kind of edge tools to help with the edges. I find that that's going to be the most important part in making it look professional.
Anyone can paint a wall, but doing a good edge is where the talent comes it. I don't have the talent, but my husband does, lol.
I think we're going to look at moving the couch to see how it looks against the wall.
Click here to share your accent wall idea and see your name in lights!