Vertical Metallic Gold Stripes in Dining Room
by H. Williams
(Acworth, GA, USA)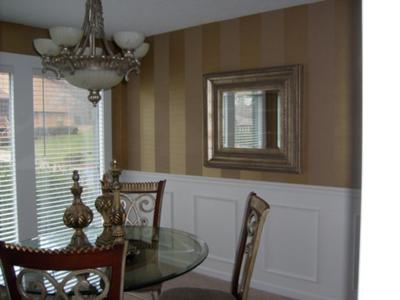 Wide metallic stripes on our dining room walls
We wanted to spruce up our dining room and make it feel a bit more formal. We decided to add faux judge's panels from chair rail level down and then paint vertical alternating metallic stripes above.


We think that the vertical stripes give the room the illusion of height, making it feel larger and taller than it did without stripes.
We considered using a horizontal stripe, but since our goal was not width (horizontal would give the illusion of width), we ended up going with the vertical.
We used
Behr Metallic Luminoso
paint in
"Gold"
over a tan base coat called
"Sauteed Mushroom"
. We chose the base color because it was one shade darker than the neutral color we have painted the rest of the rooms in our home. The darker tone of the base color combines nicely with the lighter shimmer of the metallic color we chose.
We chose to use gold metallic with it because it was close enough to the base to flow, but shiny enough to stand out. Also, gold is a warmer color than a metallic silver or pewter and we wanted to convey the feel of warmth in our dining room.
Each stripe is approximately 8 inches wide. The math involved in determining the width of the stripes was beyond my expertise, I left that up to my Engineer husband.
The most difficult part was the calculating, he wanted the stripes to be seamless, meaning you can't tell where the striping pattern starts or ends. Once he had measured and marked out the stripes I painted the metallic stripes on.
One tip
I would recommend for painting wall stripes is patience. Set aside a day for your project to be done start to finish.
Since the base coat will need to be completely dry before you start adding stripes, I recommend painting the base color a few days ahead of when you plan to add the stripes. This way, you will not already be tired of painting and waiting for it to dry by the time you get to the stripes, which require calculations and patience.
Click here to share your stripe painting idea and see your name in lights!