Vahallan Papers On a Ceiling
by Julie Hampton
(Des Moines, IA)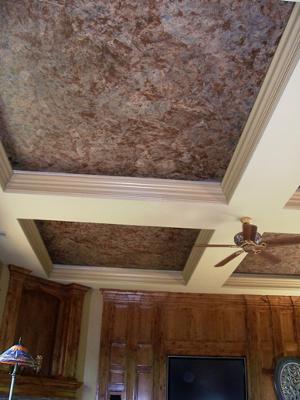 Ceiling decorated with Vahallan paper
As a decorative and faux painter, ceilings are the hot item of choice for me. In the home you see pictured, I used decorative hand painted papers from Vahallan. The papers are hand painted in large rolls in a variety of colors.


This client's home had a Tuscan theme - very old world, and very European.
The rich textures of the papers as well as the bold bronzes and metallics add to the look of this upstairs living room and bar area. The ceilings add a bit of unexpected punch to the eye that isn't noticed as you first enter a room.
The papers are applied very similar to wallpaper, with a very thick paste. The ceilings are always first sized so that years down the road, they can be removed.
The papers are individually hand torn one by one and then pieced together. There is a slight overlap of the edges. It is critical to have enough paper on order as each batch is custom made for each project.
The one tip
I give when applying these is to definitely work off of scaffolding - that way you have no restrictions and do not continuously have to go up and down as you would a ladder.
The finished look is fantastic and works well with old world styles as well as contemporary modern homes.
Click here to share your ceiling painting idea and see your name in lights!