Unique Wall Painting Idea: Multi-Colored Squares
by Kimberly Kazak
(Green Oak, MI, USA)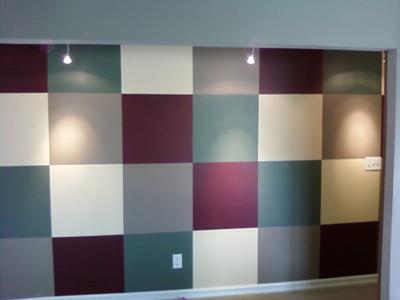 Accent wall with squares painted in different colors
Here's our unique wall painting idea: a "Squared" feature wall, which can be seen as soon as you walk through our front door. Since it was a wall every visitor to our house would see, we wanted to make a statement. We decided to do large, multi-colored squares.


The colors we chose blend in the colors from all the surrounding rooms in the house. We used 4 different paint colors, but you can pick more or less, depending on your style. We selected green, maroon, cream, and khaki.
We started by making the large squares on the wall with painters tape. You first have to measure the length and height of your wall and determine how big you would like your squares. You then tape off the squares.
We were only able to paint one color at a time because if you do all colors at once, there will be a 1/2 inch difference in some of the squares because of the placement of the painters tape. After painting one color and letting it dry, we would remove the tape and re-tape for the next color.
It may be easier to use an odd amount of colors. Our ultimate goal was to not have two of the same colors near each other. With an even amount, that did not happen. Our wall has the same colors diagonal to each other in the middle, but it really is not too noticeable to anyone but us.
You can use any brand of paint, but we used
Glidden Interior
in a satin finish.
This project took some time and patience, but it turned out great. Everyone who sees this wall absolutely loves it.
Click here to share your accent wall idea and see your name in lights!