Turquoise Paint Color on My Home Office Walls
by Hilary
(Michigan)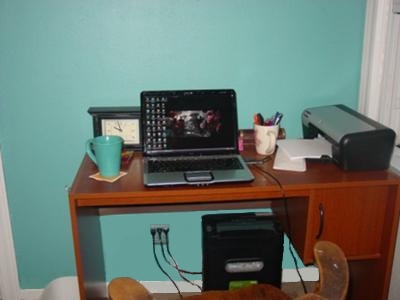 The color turquoise is a great backdrop for tired eyes
I converted this eight by eight spare bedroom in my home to my office space for bill payments and other projects, for when I needed a calming space to work in.


I used
Glidden
egg shell finish paint in
Deepest Aqua
, which I received a free quart of from their website.
I ended up purchasing another gallon, because a quart was only enough to finish one wall. I purchased the paint from Home Depot, and it was mixed right in the store for me.
The color turquoise / aqua puts me in a really happy mood, and it makes me think of spring time and the cool blue of swimming pools. I really love how it brightens the room, and makes the space seem open and cheerful.
I used two coats of the paint for a rich color and even finish. I used a roller for the main area, and a brush along with some thin blue painter's tape to get an even, clean edge in the corners.
I left the windows and the molding in their original white color, because I thought it was a nice contrast to the deep aqua / turquoise, and any other color might clash.
The egg shell finish of the paint is not too glossy. In fact, it is a nice matte finish with very little glare to it. I am so pleased with the way it turned out!
I would recommend this or any other cool color in the blue or purple family to somebody who wanted to convey a sense of peace and calm for their personal work space.
It takes a steady hand and a lot of confidence to paint an entire room, but it is so easy once you get going!
Click here to share your paint color idea and see your name in lights!