Turquoise Blue and Brown Paint Color Scheme
by Annemarie
(Indiana)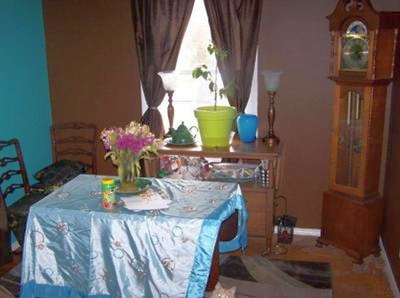 Brown walls and turquoise accents, pardon the mess!
When we moved into this new house, every single room had wallpaper border. Ugly, old, peeling, dated wallpaper border. We wanted to paint, so the process began.


We used a steamer and a whole lot of elbow grease to remove the border. We taped off all of the windows and doors, and started with the edges.
We chose to go with
Behr
paint because we had used this paint and the turquoise color in specific before. We found the paint in this color to cover easily and not take more than two coats. In other colors we had a lot more problems, especially with yellow.
We painted the blue first on two adjoining walls. On the ceiling edge, we used a little edging tool with pads and rollers that went along the ceiling. It worked really well because the rollers kept the paint neat. We did have to check them every time we put new paint on the pad though.
On the corners we used either that or another specialized corner tool. My husband loved the corner tool, but I was less than impressed.
We waited overnight to paint again, because I didn't want to run into a wet wall while trying to paint an edge. We didn't tape off the corners.
The brown went on pretty easily, but it took more to cover than the blue. Both are in the ultra deep base, so I don't really know what the difference is.
Overall painting the living room / dining room area and the rest of the house was quite a chore but we learned a few things:
We should have started with higher quality rollers. They held more paint and covered better.
It takes a lot more painter's tape than you think, and buying the paint with primer built in didn't make any difference on the walls, just left a larger hole in our wallet.
Click here to share your paint color idea and see your name in lights!