Turquoise: a Cool Color for a Living Room
by Carolyn Carter
(Niantic, CT)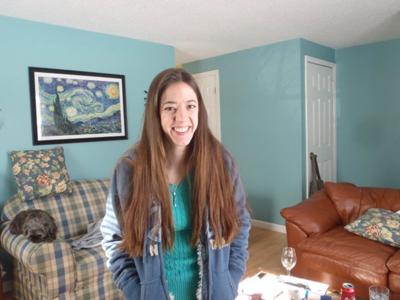 Our cool, non-beige living room
I am an artist and my landlord allowed me the most wonderful right to paint my walls any color I wanted. My roommate and I spent all summer trying to figure out colors. Countless trips back and forth to Lowes and Home Depot, we finally decided to purchase our colors.


Because we are both creative people - beige was OUT! My roommate is a huge fan of HGTV and I am a big sucker for Home Extreme Makeover. Both programs take dull spaces and put very bold, rich colors in the new renovated spaces because people don't normally go for loud colors, but they always love the end result.
The kitchen was to be a buttercup yellow. Very classic and 50's vintage decor would pull that cookie cutter happiness right out of us!
The small downstairs bathroom was hit with a rich salmon color and surprises all the boys who think it's pink, when they switch the light on.
The most important color was the living room. The kid at the paint counter looked at our paint swatch and laughed. "Blue, huh? For a living room? They say you should pick a warm color."
If he only knew how long we worked on this color match! We told him we were cool kind of people and didn't need warm colors. Our color wasn't blue. It was
"Caribbean Ocean"
or something of that nature and it is the best color for our "cool" living room.
Loud, rich colors may feel scary but there is always beige paint to make it all go away. Unless you are going to pick "buttercup yellow", try to stay away from the dull white to yellow range.
The other thing you really want to think about is your trim. A lot of houses are used to natural wood grain or boring "eggshell white" banisters. What about the bold outline of black? It should match you but it should also be about stepping a little outside your comfort zone so you can keep up with the times!
We decided to stay with white trim only because when you combined the ground floor of our place we have salmon pink, yellow and turquoise. I don't know what you think about but that reminds me of the Caribbean! So in our case, white trim matched the walls "theme".
Lastly, if you want to get really fancy then you can purchase wall decals. I have turquoise walls and there are decals on line that are of jelly fish. If I were to use this decal, I would order it in white because it would look so much nicer against the color of the wall. We haven't gotten our decals yet but it was something we did bring into consideration when choosing the wall colors.
Click here to share your paint color idea and see your name in lights!