Tone-On-Tone Stripes in My Powder Room
by Yelena Kublitski
(Galloway, NJ)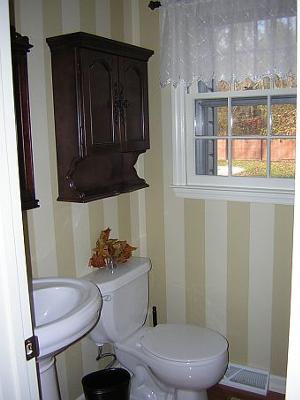 Tone-on-tone wall striping
If you have some paint leftovers from old projects, why not use them up for painting wall stripes? That's exactly what I did. We had recently remodeled our powder room, and I was getting ready to paint it.


My inspiration for the color scheme became a pretty floor mat that I had bought, so I took this floor mat with me in the garage and checked if we had any of the colors I needed.
I found that we had a little bit of tan color which I could use, and we had just enough of it to paint the stripes. But I didn't have enough of cream color, so I took some white paint and added some of the same tan color to it, until I got the shade I needed.
The stripes came out perfect - just the way I wanted; I saved time, money and gas because I didn't have to go buy any paint; I used up some of our paint leftovers that we would've had to
dispose
of at some point; and I didn't contribute to the environmental pollution.
Woohoo! What's not to love?
Click here to share your stripe painting idea and see your name in lights!