Stencil Pattern Over Wallpaper on the Ceiling
by Tera
(Watertown, NY)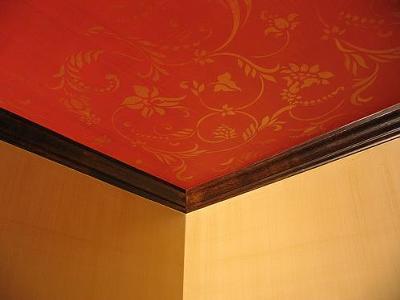 Ceiling stencil design over the weave wallpaper
Here's the ceiling in our dining room. We did a couple of things with this project to make it look different than the other ceilings in the house. I think that it turned out pretty well.


What we decided to do to the walls and the ceiling was instead of using paint, we were going to use wallpaper.
I have to tell you that if you have ever wondered what wallpapering a ceiling is like, it's horrible, lol. It's probably the biggest pain in the world!
Although, it does make it easier when you use molding around the edges, because then you don't have to worry about the edges being trimmed clean and even as much, which is good.
So, we installed some faux weave wallpaper to give the walls and ceiling some nice texture. And then we added an extra touch to the ceiling with a little decorative painting.
What we did was get some gold paint and a stencil that we liked and use that to make a beautiful pattern on the ceiling. That was also a pain in the butt, but not as bad as the wallpaper… almost, though.
I don't think I've ever looked up so much in my entire life. The gold paint isn't just regular gold paint, but a metallic gold paint, which gives the wallpaper even more texture and interest.
I think that the colors and what not go well with the room and our table. We installed a small crown molding of a darker wood to bring the colors together. The color of the molding also matches our dining room furniture.
Click here to share your ceiling painting idea and see your name in lights!