Shabby Chic Decorative Paint Finish in the Bathroom
by Emily
(Minneapolis, MN)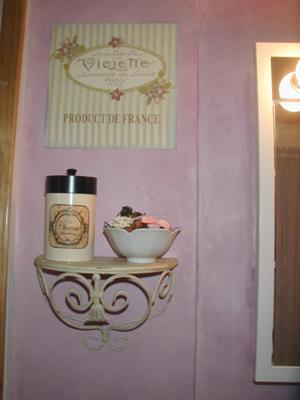 My French-inspired shabby chic bathroom
I bought a "Woolie" paint roller, which is like two rollers attached to each other, and come with two paint pans - one pan for the darker color paint, and one for the lighter. I think the tool makes the decorative painting process very quick and effective.


I wanted to give my bathroom a French country style and felt that textured-looking walls would help create a "shabby-chic" feel.
The bathroom is decorated in lavender and pea-green colors. I did the walls in subtly different shades of lavender (a bit difficult to see in this picture).
You can create the effect of as much texture or as little and subtle as you want - it depends on the contrast between the two paint colors you use.
I also purchased some press-on decals of roses and lilacs from a craft store and stuck them on the off-white tiled bathroom walls to complete the look.
I actually did most of the walls in my house incorporating two paint colors. I also used stencils to create some gold painted designs on my staircase. I don't discriminate when it comes to faux texture - to me, the more variety, the better!
I feel people's homes really should be an extension of themselves. I've been told how "me" the house is, and I feel my faux finishes/textures really add to the depth and richness of my decor. I have the most colorful walls on the block!
Anyway, what do you think about my bathroom walls?
Click here to share your faux painting idea and see your name in lights!