Relaxing Soft Blue Bathroom Color
by Katie
(Minnesota)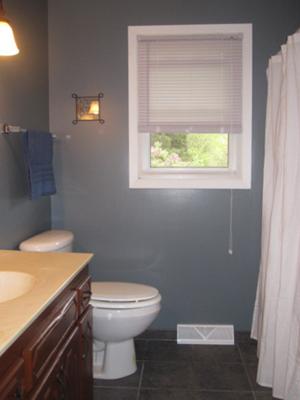 My new deep blue bathroom
The original color of the walls in my bathroom was a very ugly seafoam green. I didn't even like going in that room. I decided I wanted to make a change.


I went to my local paint store and searched for the perfect color that would look great with my new tile.
The brand I used was
Behr
. It is more expensive than a lot of other brands but it is really good quality paint!
I looked at several swatches before I made a choice. Once I spotted the blue, I knew that was it. Most of the walls in my house are a light blue and I wanted something with a little punch!
We bought paint that had the primer already in it so we could save on time. It worked great. Two coats were still needed but I think that is to be expected with most paint jobs.
I wanted the feel of the bathroom to be like a beach vacation. I painted the trim of the window white and purchased a white linen shower curtain. I think this gave the room a new, fresh feeling.
My tips
for painting the bathroom are simple:
First, it is helpful to remove anything you can from the walls. In my case, I was able to take off the mirror and all of the light switch plates.
Then, be sure to tape off any other parts of the bathroom, such as the vanity with painters tape.
Also, you can cover the vanity with a drip cloth to prevent an accident.
A ladder will be helpful to reach the high places. Be careful when using the tub wall or vanity to help you reach, it can be very dangerous.
I think the most important thing to a painting and room transformation project is to make it fun!
Click here to share your paint color idea and see your name in lights!