Ragging On the Gold Metallic Paint
by Terry
(Morgan, SC)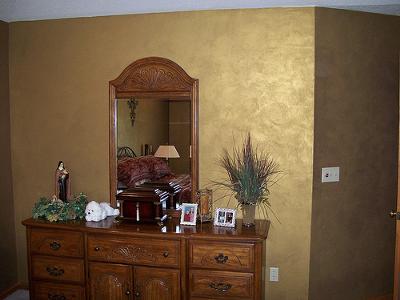 Faux ragging finish in gold metallic
Well, this is a picture of our bedroom. We like the look of wallpaper and we have wallpaper in many rooms in our house. But for this one, we decided to do some faux finishing on the walls, just for a change.


We initially thought about using a sponge, but after testing the technique on a piece of drywall, we didn't like the structured/mechanical look of it. We wanted something smooth and flowing. We didn't want the pattern to stand out, but for it to be very subtle. I think that we did a pretty good job with it.
What we actually did was use two different shades of gold metallic paint. We applied the darker one with a roller. When it dried, we used rags to dab on the lighter color.
We wanted a color that would complement our natural wood furniture and for it to be a little different from what we're used to seeing. We figured that since a lot of people used gold as their secondary/accent color for curtains and fixtures and what not, that we would do the reverse.
At first, I was a little worried that it would look gaudy, but now I really like the way it turned out. It really gives a warm feeling to the room and all our friends really like what we've done to it.
What do you think?
Click here to share your rag painting idea and see your name in lights!