Purple Focal Wall in my Bedroom
by Tera
(Watertown, NY)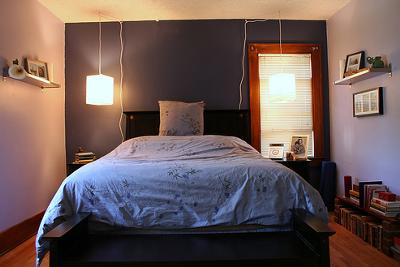 Deep purple accent wall in my bedroom
After finally getting around to clean and move things around in the bedroom, I figured that it's best that I do some painting as well. I've always seen things about doing an accent wall, but I've never been sure what wall to accent. SO, I figured the best way to do it and not screw it up was to use my bedroom.


It's really obvious which wall I should accent because it was the one with the bed up against it. I know that some people take a long time in choosing it, but I don't think it counts when it's in the bedroom.
So, we went for purple in the entire room with a cream ceiling. We painted the walls light purple and then used the accent wall for the deep, rich purple.
I wouldn't really say that it was all that hard, but there is something when it comes to matching the edges that I just didn't figure out. It looks alright form afar, but if you look closely, you can kind of tell that I messed up :)
That's alright, though. It was fun. It was a nice, fun weekend project to do with some friends and after it's all said and done, it turned out pretty nice, if I do say so. Maybe next time I'll have someone else do it, though.
I always thought that the use of purple in this room would really bring out the nice wood tones and I was totally right! Score one more for me!
Click here to share your accent wall idea and see your name in lights!