Peanut Butter Accent Wall
by Matthew N.
(Evanston, IL)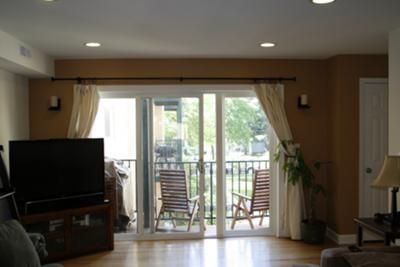 Our new accent wall
We first purchased our new condo about two years ago, and in the main family room there was an existing accent wall (painted bright yellow) that lead out to our deck. The idea of having that exact wall as the accent wall was great, considering a majority of that wall has three large windows that overlook a beautiful courtyard.


The only problem with this accent wall is as you can see in the picture, our furniture is earthy tones which clashed with the bright yellow that was originally there.
We decided to quickly change the color of the wall to complement our furniture, so we went to the local hardware store and selected the color
Peanut Butter
which really stands out against the white trim surrounding the door.
Painting the wall was extremely easy since we really took our time to tape off all of the molding, the adjoining walls and ceiling (since the paint was so thick it only took one coat to completely cover the existing color).
We then searched for neutral drapes and settled on some cream draperies that were thick enough to cut out light and give us some privacy, and added some brass hardware to hang and pull back the drapes.
Lastly, we replaced some silver existing sconces with some brass sconces that look more like candles and really work will with the paint, drapes and hardware.
In the end we are very pleased with how our accent wall has turned out and the cost was not outrageous.
We used about a gallon of paint with a cost of $30, the drapes and hardware were roughly $100 and the sconces were the most expensive part at about $150 for the both of them.
Click here to share your accent wall idea and see your name in lights!