Painting Idea: Two-Color Diagonal Statement Wall
by Karen
(Westland, MI)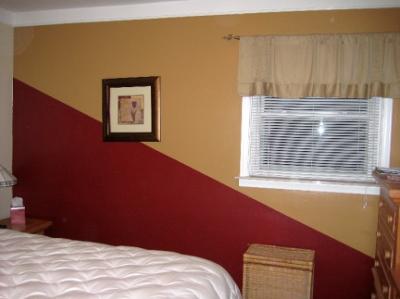 Red and yellow statement wall
Here's a new slant on wall color for a room that could use a new personality: pick your favorite two colors from some of your furniture, fabrics or accent pieces (paintings are also excellent inspiration pieces since they usually contain multiple colors that can provide a perfect jumping off point for a decorating plan).


My sister has always been afraid of color. With a little help from me, she made a conscious decision to step out of her comfort zone.
Her first choice was to paint the wall you see when you enter the room one solid accent color. I was able to change her mind when she purchased the framed art and I convinced her to make it the starting point for her new color scheme. She is now in the process of shopping for new bedding and draperies with a subtle pattern that encompasses both colors.
To replicate this look, determine if you want the diagonal line to divide the room in half, or add an asymmetrical flair to the wall.
Do you want the heavier or darker on the top or bottom of the wall? This may seem like a silly question, but as your eye views the wall, the color that touches the ceiling from wall to wall will appear to the eye as the upper color, while the other color will appear as the bottom, even though both colors will touch the side walls in equal amounts.
Most people will pick the darker color for the bottom as it will anchor the wall in the room, but this is purely a personal choice.
The colors in this room were pulled from the picture on the wall and were designed to add a warm feeling.
My sister chose
Behr
paint from Home Depot in
Ripe Wheat #310E-3
for the top and
Rodeo Red #200D-7
for the bottom.
The other three walls are
Cottage White #1813
and the trim is
Ultra Pure White #3050
.
We painted the entire wall with Ripe Wheat, allowed it to dry for 48 hours, then snapped a chalk line, used blue painter's tape to mask off the line and painted the bottom with the Rodeo Red.
All in all, adding one diagonal line in your decorating scheme just might point you straight to the excitement you are looking for in your room!
Click here to share your accent wall idea and see your name in lights!