Painting Idea for a Feature Wall: Crimson Red Color
by Abby
(Minnesota)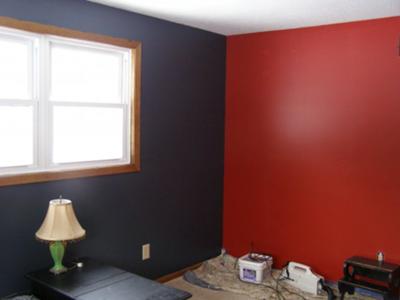 Freshly painted walls
Throughout my life I've had the traditional bedroom – quilted bed cover, brown wooden dresser, a calendar, a couple of photos on the walls, and always yellow or blue painted walls.


It was cute and neat and normal. Always normal. The only issue with normal is the fact that it's so incredibly forgettable and unremarkable, and as I got older, I realized that the last thing I wanted to live in was a boring, dull room.
After all, if I lived in a room such as that, it only seemed right that I would eventually become like that as well.
The quest for a change started from flipping through an Ikea magazine. On nearly every page the featured rooms had quirky duvets, chic furnishings, and standout wall colors. My interest was piqued and I continued paging through.
However, on one page I had to stop. The walls were all painted a deep slate gray... all except for one, which was a shocking crimson red.
I was in love. Quickly I tore the page out of the magazine so as not to forget it, and immediately went to my bedroom and began trying to visualize what it would look like in a similar paint color scheme.
After a bit of debating, I decided there was no harm in giving it a try. Not long after I headed to the store, Ikea page in hand, and began scouting out colors. I fell in love with two.
The red matched the Ikea red nearly perfectly, but instead of slate gray I chose a deep gray blue that complimented the red in a lovely way.
Home I went, and after a bit of convincing, persuaded my painter brother to revamp my room. By the next week, complete with the new duvet I purchased to commemorate the occasion, my room looked gorgeous.
I'm never, ever going back to blue or yellow again!
Click here to share your accent wall idea and see your name in lights!