Painting Idea for a Breakfast Nook: Red Statement Wall
by Maggie
(Clawson, MI)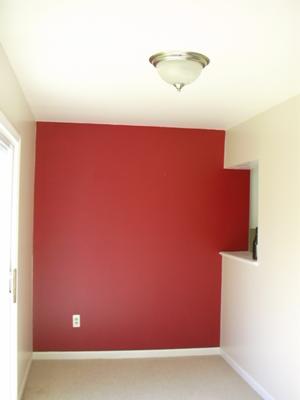 Vibrant red statement wall in my breakfast nook
My kitchen and breakfast nook area is wonderfully bright and airy, thanks to a well-placed sliding glass door into the backyard. However, it definitely needed a little more personality, which I added by painting the back wall this vibrant red shade.


I chose the smallest wall in the room to keep it from feeling "too red", and I loved the way it turned out.
I made sure I brought home samples of the paint before tackling it, as I knew changing my mind on the color would be a disaster - painting over red walls can be a nightmare.
I settled on this "blue" red color that just lends a little bit of sophistication to an otherwise plain room in the house.
Just that pop of color brightens my morning!
TIP:
I would definitely recommend spending the extra cash on the high end painters' tape, however - the cheaper tape runs a much higher risk of "bleeding" on your other walls, which ruins the whole effect.
Click here to share your accent wall idea and see your name in lights!