Our "Yellow Ceiling" Painting Project
by Metra
(Morgan, SC)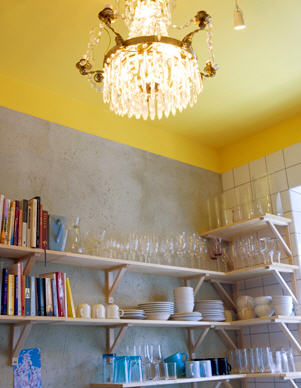 Kitchen ceiling painted a yellow color
I know this sounds silly because I'm not sure exactly what it's called. I'm sure my husband knows, but what we decided to do in the kitchen was to take the ceiling and bring the edges down to the side of the walls by 6 inches.


The reason why we did it was because we were trying to think of new and unique things to do with our ceiling and while we looked at many ideas, we weren't really happy with them.
We wanted something simple, but that will stand out. We didn't want to put up any trim or do any fancy painting because we really aren't that great, lol.
It was pretty easy, but the only problem we had was removing the tile that was already there because it went all the way up to the ceiling. So, we had to take a bunch of tiles off. After that, it was pretty simple.
What we're actually thinking about doing now to it is to add a little trim around the edges. Not because we don't like it the way it is, but it's been like this for quite some time and while we have received many compliments about it from my friends, I think we can make it even better.
I don't know if other people are able to do their ceiling stuff on their own, but ours was really simple and we were able to do it without any problems.
Click here to share your ceiling painting idea and see your name in lights!