Our Living Room Walls Painted a Subtle Orange Color "Glazed Donut "
by Sean Healy
(Pompton Lakes, NJ, USA)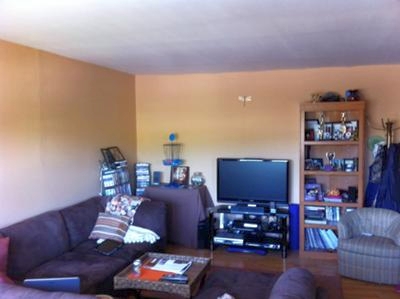 A subtle shade of orange on our living room walls
We used the paint color "Glazed Donut" for our living room walls for many different reasons, but primarily because it matched our brown sofa and orange pillows.


We went to Sears Hardware and used a color swatch from
BEHR
for all the different rooms. Most of the swatches they had were too similar to each other but we did find one with a wide range of colors (the colors ranged from the beige of this
"Glazed Donut"
to a burnt orange color, to a dark red we used in the bedroom).
We wanted to make sure each room in the apartment had its own individual feel to it, but at the same time we felt that using related paint shades would make the apartment seem bigger than it actually is.
Obviously, we wanted the lightest shade to appear in the living room - a color that would pop in the daylight but wouldn't be too dark in the evening.
My friends renovated their house before we moved into this apartment and they had a similar, but not exactly the same, look going on. Their living room paint color was a darker beige, and it sometimes made the room seem a bit too dark if all the lights weren't on.
We didn't have any ceiling lighting, so I wanted to make sure that the wall color was lighter and had a bit of a hint of orange in it to liven it up.
I love the look that we got and would choose the same setup again if I were to move. If I were to purchase new furniture, I would still buy items that would go with the color scheme that we have now.
I feel as though this color scheme is almost timeless in a way, because we have a lot of "hand me down" furniture that doesn't seem as old as it is because the colors work so well.
Click here to share your paint color idea and see your name in lights!