Orange Accent Wall Painting Idea: Sherbet Paint Color by Martha Stewart
by Candice Liverett
(Payson, IL)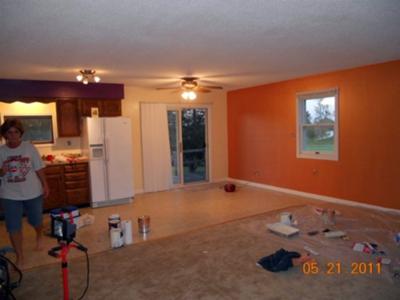 Orange Sherbet paint color on the wall
I just bought my first home... everything was primed white, so that gave me an open palette to do anything I wanted to do to it!

So I went to Home Depot and found the Martha Steward Precious Metals colors and originally picked out a turquoise color... but then I found Orange Sherbet!

After two coats with a regular roller and a few calls to my local Home Depot, I finally got the right rollers and the last coat did it. It looks great!

As for the other colors, the creamy walls are Behr Cracked Wheat in semi-gloss and the purple above my kitchen cabinets is called Nostalgic in Behr also.

Love this area in my house! Can't wait to move in!!

Click here to share your paint color idea and see your name in lights!