New Faux Paint Finish "Parchment" in Our Kitchen
by Vicki
(Rehoboth Beach, Delaware)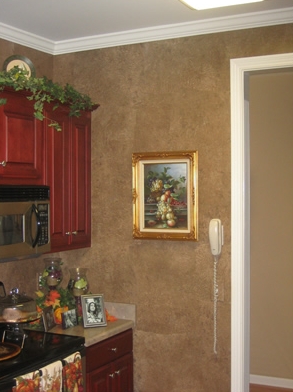 Parchment faux painting effect
My fiance has lived in his current house now for nearly 25 years. He took over the house when his mother got remarried and moved out. We obviously recently got engaged and I'm pretty much moved in.


He was aware of the need to update some features of the house and a fresh coat of paint the house needed everywhere.
We decided to focus on the dining room and kitchen first. With the kitchen, we took it one step further and chose a faux paint finish for the walls.
Looking back now, I wish I would of taken before and after pictures but just didn't think about it. I was very excited to try this new faux painting technique because it was a whole new experience. By the way, it's called
parchment
.
I feel like this finish helps to give texture to a smaller space. Having just re-painted the adjoining dining area I wanted to give the kitchen its own feel.
The color choice was pretty simple as well. I knew I wanted to take out the white wash feel the kitchen gave off and brighten it up but still keep it earthy. The cream, tan and mocha color combination did just that.
No 2 walls will ever come out the same with this technique, it's like each wall has its own personality, but that's the part I love the most.
I would appreciate some comments please! :)
Click here to share your faux painting idea and see your name in lights!