My Yellow Painting Idea for Kitchen Walls - "Antique Gold"
by Crystie
(Canton, Ohio, USA)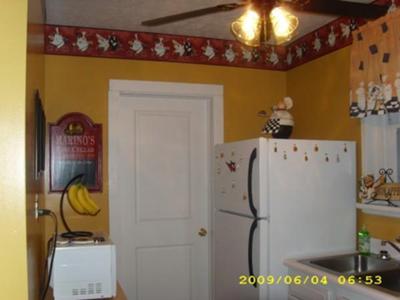 Muted yellow paint color in my kitchen
Before I painted my kitchen it was a dull tan color. That color was a great neutral color, but rather boring. I wanted something more vibrant, but not too bright.


I took a few weeks deciding which color to paint my kitchen. All of the colors that I liked best were in the gold/yellow family. So gold it would be.
The next step was deciding on which shade of yellow. I liked the more muted gold shades. I didn't want my kitchen walls the color of mustard.
I decided on a paint color called
"Antique Gold"
. At first I wasn't sure. When you start painting a room a more vibrant shade it's quite a difference. But after I finished painting one wall I was sure this was the color for me!
By the time I was finished I was so happy that I had chosen this color. It's perfect. Each time I go into my kitchen the color is inspiring to me! It makes me want to be creative. I love this shade of paint, and I love the decor and theme that I chose to coordinate with the paint.
This was the first room that I painted on my own and I was a little hesitant at first. But I just made sure that I bought the correct amount of paint and all of the right supplies.
The
best advice
I can give is to buy a decent paintbrush. Don't skimp and buy a cheap one. It makes painting/cutting so much easier when you have a good brush.
The other advice I have is to tape off the woodwork in the room. It makes painting the room go so much faster.
Anyone getting ready to paint your own room should just relax and have fun with it. The worst thing that could happen is that you decide you don't like the color and have to repaint.
I'm so happy I tried painting my room on my own. Now I'm ready for my next project! :)
Click here to share your paint color idea and see your name in lights!