My Living Room Painting Idea: Rich Burgundy Color
by Amy Andrew Loo
(Longwood, Florida)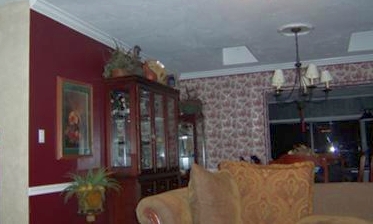 My living /dining room area painted a rich burgundy
I painted the living and dining room using "Garnet" in a satin finish from Behr paint. I chose this color because it matched the fabric wallcovering and gimp that I used on the far back wall.


In the dining area of our great room we added a chair rail and I stapled cotton batting to the top part of the wall, and then stapled a fabric wallcovering on top of the batting. It is a burgundy and white toile cotton fabric.
I glued a burgundy gimp, using a hot glue gun, along the edge of the fabric to cover the raw edges and hide the staples.
I wanted a French Country look so I found that black wrought iron chandelier. The mood I was going for was warm and inviting, and it turned out beautiful, just like the exact picture in my head.
In the hallway I wanted to lighten it up so I used two cream colors in Behr paint. I painted the walls with the light cream color, then rolled the darker cream mixed with a glaze over the light one, and then took a sea sponge and removed paint to reveal the light cream color.
Even though my furniture is dark it looks great together.
Don't be afraid to try color, experiment with your favorite colors and if it doesn't work then try another color.
I suggest looking in home design magazines, websites, and watching home improvement shows to get ideas. I got a lot of my ideas from visiting other people's homes. You can also go to home improvement stores and talk with associates to get more suggestions.
I love experimenting with lots of different colors and fabrics.
TIP:
use dark colors on walls, with light or neutral fabrics on couches and windows for balance.
Click here to share your paint color idea and see your name in lights!