My Green Living Room Accent Wall
by Jennifer
(East Lansing, MI, USA)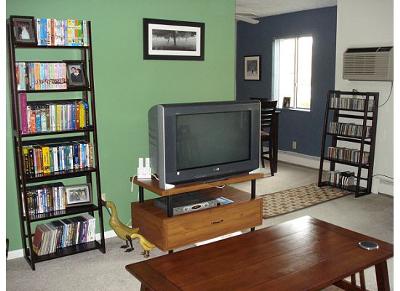 Green and navy blue accent walls in our apartment
We have a small apartment and when we moved in there was no color on the walls. Because we will have to pay to have each wall that we paint to be painted back to white when we move out of this apartment, we decided to do a few accent walls to make the apartment feel more like home while not having to pay too much money for repainting when we move out.


Our inspiration was this great wall display that we once saw at a local store, which was this fabulous green and made the whole store pop with color.
We figured that if we could make our room pop with color with only one painted wall, we would get the most bang for our buck.
Additionally, green is my favorite color, and during Michigan winters, we figured that a spring-like color such as a bright green would help force away the winter blues.
I think that the project actually turned out very well, especially when you see it against the blue accent wall in the dining room.
The color ended up matching our dark wood furniture very well and making us feel cheerful when sitting in the living room, just as we had intended.
We added a few accessories to our living room to bring out the green, such as the small ducks on the floor. And we used black and white photographs on our different accent walls to tie the walls together, despite them being different colors.
This way it feels as if we have a unified theme going on in our apartment, despite the use of different colors throughout the apartment on our varied accent walls (we also have a yellow and a purple accent wall in our apartment, each with a black and white photograph on it).
Overall, I am very happy with this project and feel like it helped us to make a small apartment feel more like our home!
Click here to share your accent wall idea and see your name in lights!