My Freshly Painted Green Home Office
by Carl
(Chicago, IL)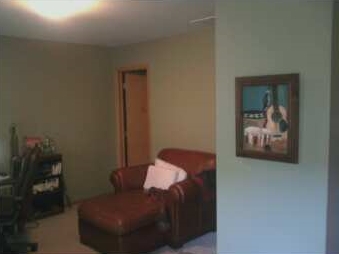 My freshly painted green home office
I've been working from home for the past few years and decided to paint the office space in my town home. I chose a Behr color - it's a green earth tone with a bit of yellow to it, for a couple of reasons:


First, I find the color relaxing, easy on the eyes and very livable (important factor when you have to be surrounded by it for hours on end, like I am in my home office).
Second, I wanted to give the room its own identity. My home is a split level and the office space is connected to the dining area of the kitchen on one side, and has a full bathroom on the other.
The kitchen is painted a haystack brownish-yellow and the bathroom is a tan color with a slightly pink tinge. The office's original wall color was tan with a bit of yellow, so it was extremely similar to both of the rooms it bordered.
I got exactly what I was looking for; the room is more comfortable to be in now (if nothing else it's one less thing to nitpick about the space I spend 11 hours a day in) and the change has helped to give three rooms in my home their own feel.
My biggest piece of advice
for first-timers is to get a decent step stool or ladder for the edging around the ceiling, along with a quality brush.
You need a steady hand and a well defined brush tip to do the trim and ceiling edge, and the extra couple bucks will save you HOURS of frustration during the painting project.
Click here to share your paint color idea and see your name in lights!