My Faux Paint Sponging Bathroom Project
by Daniele Botts
(Kansas City, MO, USA)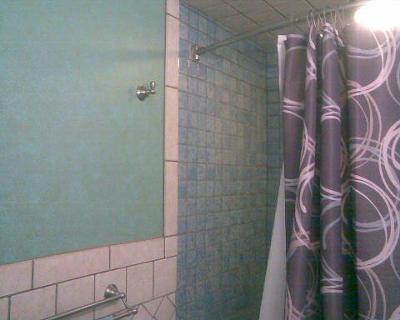 Faux sponging finish on my bathroom walls
After thumbing through a book on faux-finishing methods, I decided to attempt the sponging technique in my hall bathroom.

I chose this particular finish for two reasons, the first being that my husband is not great at drywall and the second being that I had never tried to do a faux-finish before; sponging seemed both the easiest to start with and the most forgiving.


My husband and I had chosen a blue and green "amoeba" patterned tile for our shower, so in keeping in that color family, I chose similar shades for the walls - going heavier on the green to contrast with the tile.
It's a very small space, so it was important to me to not go too dark with the paint colors - but the
"Greek Sea"
and the
Ralph Lauren "Whispering Green"
suited the room perfectly.
Though I am not the best interior painter, I did all of the painting of the bath myself. We primed the walls first, then added two more coats of the green base coat over that.
After that was fully dry (1-2 days), I went in with a small, handheld paint pan and a natural sea sponge, which I bought in the paint aisle of the home improvement store. I did small sections of the wall at a time, trying to not overlap my blue paint.
Once my sections were dry, I went back over it and sponged on more paint as I saw fit. I was a little nervous at first, but once I got started and experimented with the paint and my sponge a bit, it was easy and fun!
This first attempt was not by any means perfect, there were a few things I had to learn the hard way.
First of all, it's a lot easier to add paint rather than take it away; use a light hand with the paint-dipped sponge.
The second lesson, thoroughly rinse your sponge religiously after each use - it's ruined if you don't.
Lastly, I discovered that the more comfortable I felt with the technique, the better it came out - sponging is imperfect; perfectionism will only ruin the effect you're going for!
Click here to share your sponge painting idea and see your name in lights!