My Blue Accent Wall Painting Idea for a Bedroom
by Cindy
(Knoxville TN, USA)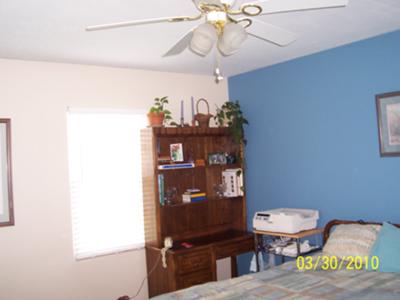 My blue wall paint idea... gone wrong!
I wanted to add a little bit of color to the otherwise beige bedroom I have. I felt that painting the whole room blue would be too overwhelming, so I targeted one accent wall and the entrance to the room for the blue paint.


My brother, who paints for a living, had said that someday he would bring his crew to town (he is in another state) and help paint the bedroom. It didn't occur to me to pick out a color ahead of time.
So one Sunday afternoon, he calls and says he will be at my house in a couple of hours. In a panic, I go to the
Sherwin Williams
web site and try to find the color I had in mind. I picked
Leisure Blue
, thinking it would match the print I had on the wall to be painted.
When my brother and his two assistants arrived, we dashed off to the Sherwin Williams store about 10 minutes before closing. With only one employee in the store, I felt pressed to decide on a color quick, even though the employee helped me sort through the various colors of blue.
In the end, I went ahead and picked the Leisure Blue and I have regretted the choice ever since. It is simply not dark enough. It needs a bit more gray, I think.
So, now my brother and his crew are long gone and I just have to accept that my color is what it is. It is not bad, it is just not perfect.
The lesson learned here is that you should take time when selecting a color. Take days, if you can. Bring home the color strips from the paint store, hang them on the wall and then think it through.
Click here to share your accent wall idea and see your name in lights!