My Apple Green Color Bedroom
by Sangeeta Naik
(Shillong, Meghalaya, India)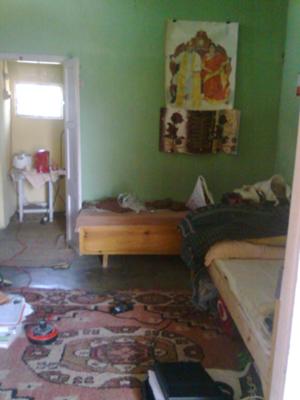 View of the bedroom and kitchen
I painted the bedroom an apple green color to make it look fresh and natural. The kitchen was left the original light yellow.

For accessories, there are 2 rugs in the apartment: one is an old ready-made rug, the other one is made from regular jute bags available in any grocery store. What I did was just design the edges of such bags, stitch them together and spread them on the floor.

I have the pictures of my spiritual friends on the walls, with whom I talk during moments of achievements and sorrow.

I also made an old saree (an Indian attire which is a piece of cloth of 5.5m - 6.00m long) into a bed cover which gives an earthy look to the room decor.

Click here to share your paint color idea and see your name in lights!