Modern Decorative Ceiling
by Prakhar Bhatnagar
(India)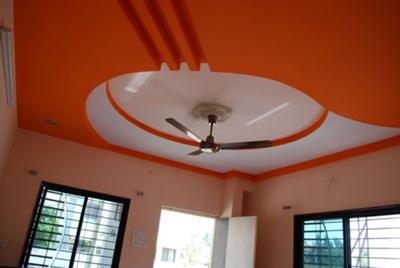 Ceiling with a Carved Design
This picture is of my vacation home in Nasik, Maharastra. My house is very big, beautiful and quite impressive, but I didn't like the way my foyer looked, because it looked boring and ordinary.


As you can see in the photo, there is not much wall space because of all the doors and windows, so I couldn't do much with the walls. That is why I turned my attention to the ceiling. Basically, I decided to turn my ceiling into an accent wall!
The walls in my foyer are very pale orange. I used the same color, only 3 shades darker for painting the ceiling. The colors looked good together, but still something was missing.
Then I saw a carved ceiling in somebody else's house, and wanted to do something like that in my own home.
The company that does these things created a custom design just for me, and they also installed it.
Now the ceiling looks complete and modern, just the way I wanted. Nobody expects to see something like this on a ceiling, so I get a lot of WOWs from my guests!
When the lights are on, the ceiling is reflected in the white tile on the floor, and the room becomes illuminated and even more radiant!
Click here to share your ceiling painting idea and see your name in lights!