Light Lavender Paint Color in a Baby's Nursery Room
by Rachael
(Brighton, CO USA)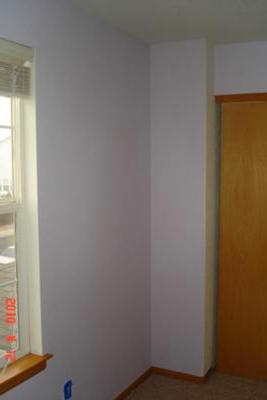 Lavender Haze paint color on the walls
I am currently a mother of 2 boys, and expecting my first girl in June 2010. When my boys were born, beginning in 2003, my husband and I lived in apartments.

We were able to put up some nursery decor, but because of the rules of our lease agreements, we were never able to paint a nursery the way we wanted to.


This time, we live in our very own home, so we are able to decorate any way we wish.
At first, I wasn't planning on painting the room. I was going to leave the walls white, and all of the decor we got for our first girl has been hand-me-down stuff. And then my mother purchased a brand new crib and dresser for our baby girl. That purchase changed everything.
I decided I would paint her nursery a light lavender color to match a blanket I had received from my aunt.
I spent all day Sunday taping and prepping my painting area. There are four walls which needed color. The dimensions of the room are about 10x12, so I only needed one gallon of paint, and no primer was necessary.
I purchased
Olympic
brand paint from Lowe's in a flat sheen, and then selected the exact shade of purple I wanted to have it tinted.
I had brought the blanket with me to the store in order to match it as closely as I could with the available colors for the brand. I was fortunate enough to find one that was very close (
Lavender Haze
), but perhaps one shade lighter, which worked out extremely well for the finished product I have in mind.
I also had to purchase some new rollers as well as paint brushes to complete the project. In all, I spent less than $20 to paint my baby's nursery.
I began painting the nursery at 6:00 p.m. on Sunday, and completed the job around 11:00 p.m., including the clean-up. I used less than the full gallon of paint for the room, so there should be some left for touch-ups as needed over the next few years.
I am extremely satisfied with my results. While there are some areas I need to go back and touch up before I bring the nursery furniture back in, I am overall very pleased with the quality of paint I purchased, as well as the coverage I got from a single can.
I recommend
using a brand of paint which comes with a warranty. The Olympic paint comes with a 15 year warranty, which refunds any monies if there are any issues with cracking, chipping, etc., as long as the directions were followed.
I also recommend doing a thorough job taping off any areas where you do not want to get paint. While you may tell yourself you will be very careful, it is extremely easy to slip with a roller or a brush, or have some splatter that was unanticipated, and wind up with a drip or a splash of paint somewhere you don't want.
Taping also gives nice, clean lines and a professional look to the finished job. Give yourself several hours to tape. Even though you may be extremely anxious to begin the room transformation, make sure you are completely prepped before beginning painting.
You will thank yourself when the job ends up looking great, and there are no messy accidents or mess-ups.
Click here to share your paint color idea and see your name in lights!