Interview with KELLY PORTER - fearless home colorist and designer
by Yelena Kublitski
Credit: All photos from PorterHouseDesigns.com
Kelly Porter lives in a world of no wrong paint colors. She embraces even the boldest hues and the most unconventional color combinations.

Being a woman of faith, Kelly believes that God surrounded us with color to inspire us, so she fearlessly uses this tool to evoke emotions and enrich her clients' lives.

While browsing her blog, I found the following quote - which I think does a great job explaining Kelly's views on a home and interior design:

"By wisdom a house is built, and through understanding it is established; through knowledge its rooms are filled with rare and beatuiful treasures." ~ Proverbs 24:3-4


---
Kelly, can you share a few key things about yourself, your background and what led you to pursue a career in home color and design?
Interior design is actually my second career. I have a BA in communications and worked in public affairs.
I eventually left the workplace to stay at home with my children. Decorating became
my outlet and my passion
, so I decided to enroll in a professional design program.
One day I was in my local Sherwin-Williams store buying paint and I introduced myself to the manager. He asked me to teach a Color Workshop for his customers, and the rest is history.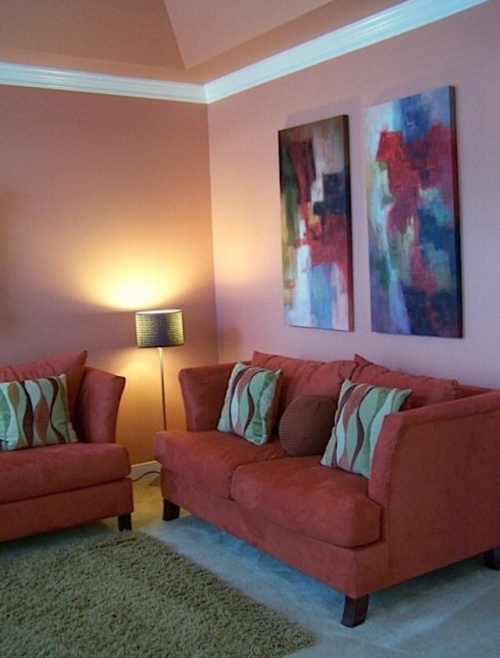 In your opinion, what is the biggest difference between how YOU see color, and how most homeowners see it?
My color philosophy is that any two (and even three) colors can co-exist harmoniously.
My eyes rarely see colors that clash.
I often remind clients of the many color palettes in nature and in artwork.
Understandably, many homeowners are concerned with whether certain colors will go together -- even if the colors are beige and blue -- so I have to reassure them.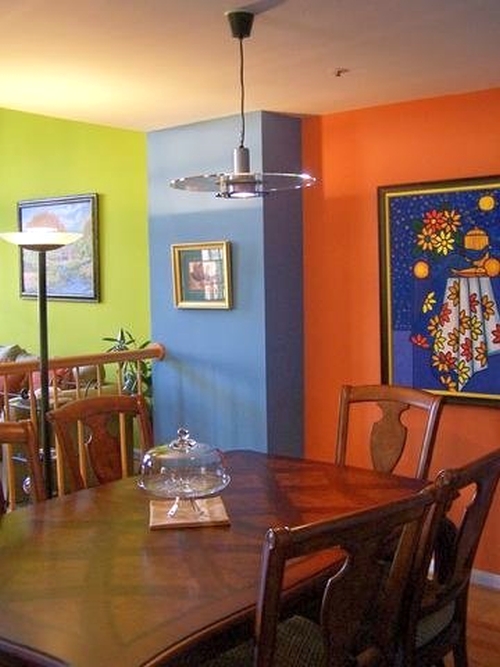 When you walk into a room for the first time, how do you decide what paint color to specify? What is your process?
First, I always ask the homeowner what their color
preferences
are for the space, then I ask what their
goal
is for the space.
Sometimes, there is a disconnect between the two that I need to resolve, keeping in mind that the goal is most important.
Color is a tool, so it should achieve a goal
.
I also consider lighting, architectural elements, existing hues and finishes, and what activities will take place in the room.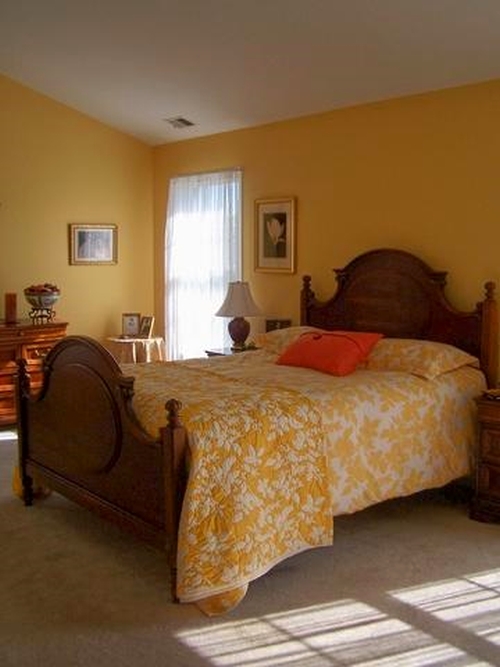 How do you know when a color combination works? When do you stop tweaking?
I engage in several color comparisons with my clients. We often look at one set of colors against another set.
It becomes a
process of elimination
.
Your house is painted and decorated with all the colors of the rainbow, and it's absolutely gorgeous. How did you make it work? Can homeowners pull it off as well and how?
Thank you! My husband and I both love warm, earth tones, so the open areas of our home are painted with amber, crimson, brown, clay and butterscotch. This became the "neutral" palette.
Then we added cool accent colors - cobalt blue and turquoise in some of the rooms. In the closed-off spaces such as the bedrooms, powder room, laundry room and my home office, I used different colors and more dramatic combinations.
I believe that
anything goes
(within reason, of course) when it comes to kid's rooms.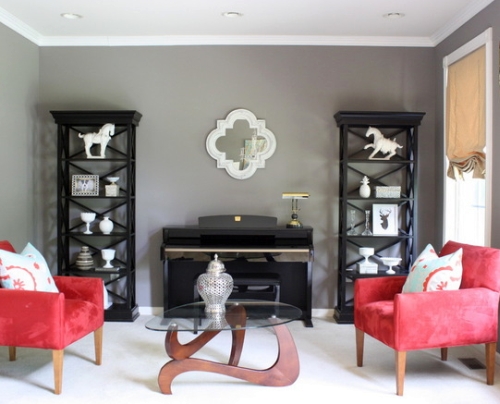 Homeowners can achieve a colorful home by using the same strategy. First select your neutral color or color combo.
Neutral isn't necessarily beige
, either. Any hues that are dominant and are easy on the eyes (usually the more muted colors) can be neutrals.
Then, layer on your accent colors using accessories, surfaces, finishes or painted accent walls. It's fine to use completely different colors in your bedrooms.
Is there one piece of advice you could give, that would move homeowners just one step closer to choosing the right paint color for their homes?
Homeowners should not limit themselves to any "color rules" that they may have heard about.
For example, using
a dark wall color doesn't automatically make a room look smaller
. A room's perceived size is not based solely on the wall color, but on a number of factors including the amount of furniture, type of window treatments, etc.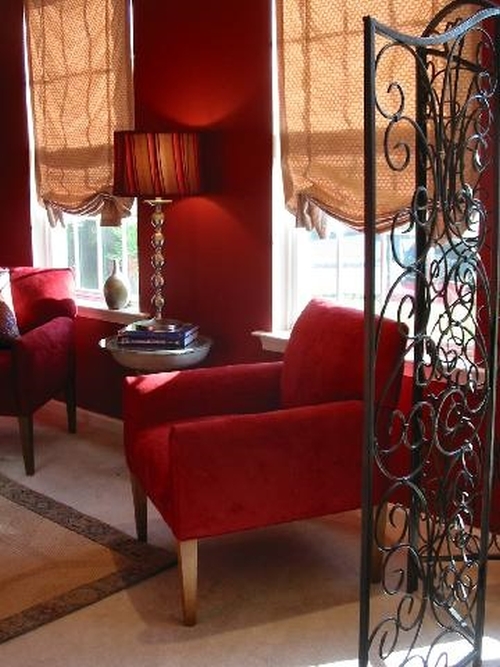 What is your biggest pet peeve in the current painting and decorating trends?
White walls have their place, but they drive me crazy.
What is your home color and design forecast and what do you see happening in the next 2 years?
I definitely see a move towards more multi-colored environments where homeowners are mixing and matching hues as well as furniture.
I'm also seeing
global-ethnic and cross-cultural
influences in design and color choices.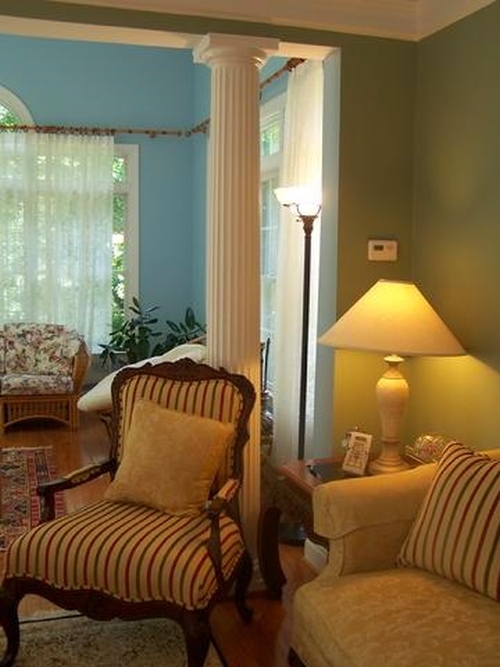 Where do you look for inspiration and fresh ideas?
When I travel to other cities, I always seek out the trendy design boutiques to see what's hot.
In addition to interior design, I also create centerpieces and tabletop designs, so I look to the latest trends in entertaining by following design blogs and reading tons of magazines.
I also visit my flower wholesaler to see what's new and I enjoy scouring thrift stores, flea markets and craft stores.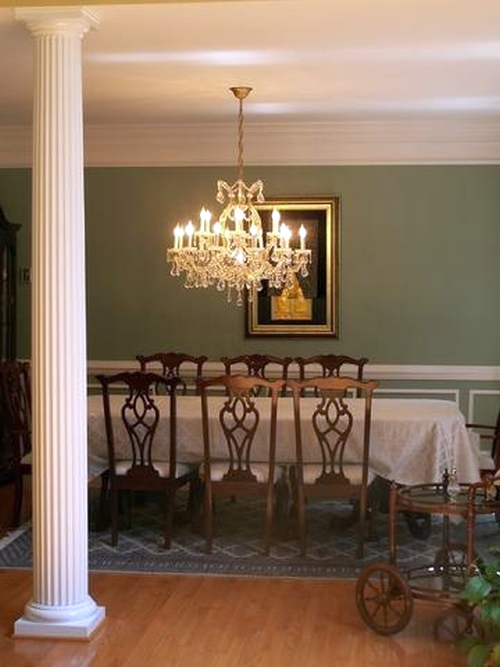 What are the 3 things nobody knows about you, but you wish they did?
Wow! Honestly, I can't think of anything! I'm very transparent.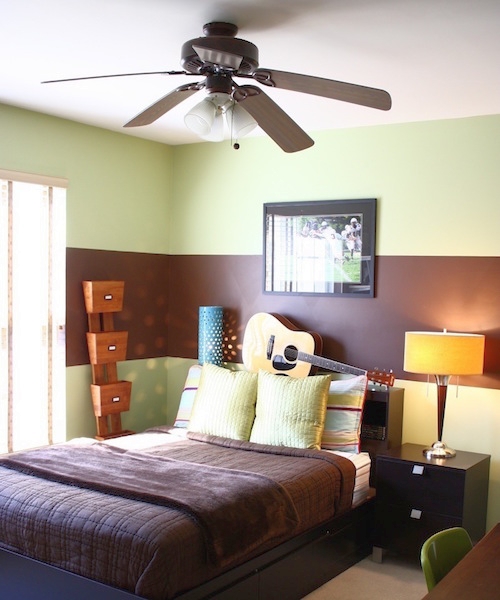 What is your secret to success as a designer?
A lot of prayer and the favor of God.
---
Kelly offers color and design consultations in the Baltimore - Washington, DC area.
In addition, she provides a convenient online decorating service "Design Take-Out". For details, go to
www.PorterHouseDesigns.com