Interview with Ellen Kennon - creator of full spectrum paint colors and holistic interior designer
by Yelena Kublitski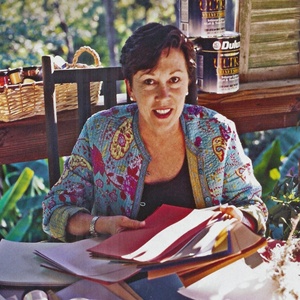 Credit: All photos from EllenKennon.com
To Ellen Kennon, interior design is not only what you see, but more importantly, what you feel in a space.

With her beautiful full spectrum paints and holistic approach to design, she helps people create truly magical and healing environments.

And if you've never met an intuitive and spiritual designer, or seen chameleon-like paint colors that look alive on the walls, you are in for a treat!


---
Ellen, what made you start your own paint line?
It stems from a 25+ year career as an interior designer & serendipity!
I went to Mary Jo McCabe (she's a channeler) for business advice. I asked her why I wasn't as monetarily successful as some of my designer friends, she said I should focus on my greatest talent, and then everything else would fall into place.
Before, when selecting paint colors with decorating clients, I would show them all the big paint company fandecks and my little stack of a dozen custom colors. Each time, they would choose my colors, saying "you should have your own paint line".
So color was always my strongest asset and I was often creating custom colors for clients.
A few days after my appointment with Mary Jo, a developer/client asked me to create a custom color for him. He requested that I use ICI Paints, because he liked their product and they gave him a great price.
So, I went down to an ICI store and they let me go in the back to work with them to re-create the color and were open to mixing it without using the black pigment. (I'd learned about full-spectrum paints from Donald Kaufman, who mixed my colors for me when I was a designer in NYC.)
Later that evening, as I was sipping wine on my porch, I had that "Aha!" moment. The next day, I took my little stack of custom color samples I had created over the years and had ICI re-create the formulas for me using their product and pigments.
Initially, I sold them to local clients, but shortly afterwards, I consulted a Feng Shui consultant who came and did a consultation on my home, which also houses my office. He noticed that I was missing the corner of my house (I'd added a room on for my daughter) in the "fame & reputation" section and suggested I fix it by installing a lamp post to anchor the corner.
Although I had a website, I didn't get much traffic, but shortly after I installed the lamp post, my internet traffic really picked up! My first newsletter, Living Well, was written in the summer of 2001 shortly after starting the paint line.
Oh, and by the way, as serendipity would have it, I later realized the day we created the first "Nature's Palette" of 12 colors was June 21, 2001!
You are a holistic interior designer... what exactly does it mean?
I was an interior designer in NYC in the 80s when excess was at its height! I moved back down south to live in the country, because I missed nature.
Soon after I started spending so much time outdoors in the woods, I began to take a second look at the field of Interior Design. I was disgusted with the materialism of it and thought it was a worthless career.
Rather than continue with it, I became partners with my former husband and we turned his property, a 4 acre hilltop in St. Francisville's historic district into a B&B Shadetree Inn.
I decorated the suites so that they would be little sanctuaries for people to escape hectic city life. It is quite successful and the reviews in the guest journals were filled with glowing accounts of their time there. The words "magical" and "healing" were mentioned throughout.
So, I began to re-visit what it was that made them so special and that made me look at the field of interior design in a whole new light.
The home I designed and built for myself was also very much like Shadetree and got the same response.
At the time I was reading a lot of metaphysical material, and realized that it wasn't so much about what you could "see", but about the energy you couldn't see. The energy I put into the rooms was also being enhanced by the guests' feelings/energy!
Also, the colors I used were chosen for their special properties. I used lots of greens and golds (gold being a very spiritual color).
How can we color and design our homes holistically?
Spend time in each space pondering how you want to feel there. Then choose a color to enhance those emotions and activities.
The color on the walls is what creates the ambiance and atmosphere, so it's really the most powerful element to work with when it comes to designing a space.
And I especially love that it's the cheapest!
What makes full spectrum paints different?
Full Spectrum just means that instead of using only 2-3 pigments which include black like most paint companies, we mix our colors like an artist/painter would.
We omit black because it absorbs light, and include every pigment from the color spectrum, which is how we see colors in nature.
It makes the colors richer, have more depth, more luminosity and change more with the light.
What part of your work do you love the most?
Being able to still work from my home, yet get to know so many wonderful people from all over the country.
Paint color selection is very daunting for most people, yet something I can do easily, so I love helping people create spaces they love - which is why I offer color consultations via email & phone at no charge.
I also say prayers and visualize that everyone who comes into contact with my paints is joyful and balanced and you wouldn't believe how powerful that intention is!
In the 8 yrs I have been in this business, I have yet to run across anyone "unhappy" after they have those samples in their hands and/or the color on the walls.
What's the biggest difference in how YOU see color, and how most homeowners see it?
I see it as a healing tool.
However, I do believe that finally color is growing into one of the most important healing modalities.
What is your signature color?
Not that I feel I have a "signature" color, but I would have to say green is the color I use and recommend most often.
I use green in almost every room somewhere. Green is the most balancing and healing color. Because it falls in the middle of the spectrum, it acts as a neutral and goes with everything.
Is it important to have a decorating style?
Not really. I love Sarah Breathnach's book "Simple Abundance". It is a wonderful tool for discovering your style.
Her 6 steps to being authentic and creating a life you love involve: Gratitude (being grateful for all that you have - I still keep a gratitude journal to this day!), which leads to Simplicity (paring down things you no longer need or want), which leads to Order, which leads to Harmony, which leads to Beauty, which leads to JOY!
How do you know when a color combination works?
I'm very instinctual, so I don't do much tweaking. I am also often reminded of the phrase "KISS (keep it simple stupid)" :-)
What is your process for selecting paint colors?
Survey the space, decide how it will be used and how the client wants to feel there.
See what type of lighting there is (i.e. cool northern light or warm southern light), what type of space it is (whether or not it has any interesting millwork or architectural features), the colors already in the space (like flooring which can bounce a lot of light onto a color).
What is you main color advice for homeowners?
Don't be afraid of color.
But, if you are doing it yourself, look at the historical colors. They are tried and true and rarely garish. Usually they are more earthy and easier to live with.
What is your biggest pet peeve in the current painting and decorating trends?
All those decorators who send me fabric samples to match exactly, and not considering how important the choice of color is in creating emotions and feelings.
What is your home color design forecast for the next 2 yrs?
The words "Zen" and "Nature" continue to come to mind.
Also, as for color, I'm seeing much more interest in "chameleon-like" colors.
What are your career goals for the next 5 years?
Besides just wanting to grow my business, I enjoy creating beauty and inspiring others. I'm open to wherever that takes me!
I have actually been trying to learn to go with the universal flow and not think about the future, but concentrate more on being here now.
What is your secret to success?
Two things: Gratitude and Joy!
I've always been a Pollyanna/optimist and my experience has shown me that we really do create our experiences. Not a day goes by that I don't give thanks for my many blessings which I know is why they just keep on coming. I experience magic almost every day.
Also, as I tell my teenage daughter, "Act happy and you will be happy". It's amazing how, if you just shift your perspective, you can change your life!
---
To learn more about Ellen Kennon's paints, and how they can breathe life and magic into your home, go to:
EllenKennon.com
- Ellen offers samples and a free color consultation with a paint purchase.