2 Unusual Ways of Using
Interior Paint Color Samples
Interior paint color samples can really help take the guesswork out of choosing paint colors for your home. Here you will learn 2 interesting and unusual ways of choosing and sampling paint colors.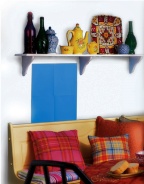 What's great about interior paint color samples is that they allow you to test different paint colors in the actual setting of your home.
You can use them to create oversized paint color swatches and see how the colors look next to your furniture, carpeting, window treatments and accessories in different lighting conditions.
But one color expert, Joanne Day, has a unique way of working with interior paint color samples. See if her ideas can help you find that perfect shade for your room.
Idea #1: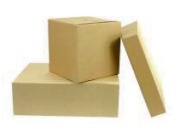 If you paint sample colors right on the walls, stop. A 2-dimensional wall color patch will not help you much - chances are, you will still be just as confused and unsure.
Instead, test paint colors on a 3-dimensional object. Go to you local office supply store and buy a couple of cardboard file boxes. Buy samplers of the colors you are considering for your room, and paint each box a different color.
Unlike a 2D patch of color on the walls, a 3D box will do a better job showing you how each color "reads" in different light situations. Live with the boxes for a couple of days, move them around and view how the colors change during the day. See if the boxes fit in with your room color scheme, or whether they stick out like a sore thumb.
Before you know it, you will have a clear and final answer to the question "Which of the colors is the keeper?".
Idea #2: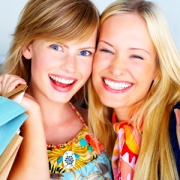 When you wear an outfit in a beautiful, flattering color, don't you feel pretty and on top of the world?
You can feel this way more often (in fact, every time you walk into your room), if you choose interior paint colors that you can successfully wear as clothing colors. When you pick a few potential colors for your room, use interior paint color samples to test those colors on boards (or boxes as described above). Then hold each board/box under your chin to see if it complements your natural colors.
If you don't look good with one of the paint colors, you probably shouldn't use it for painting the walls, because it won't empower you. You will be much happier with your paint color choice if both you and your room decor look good on that color's background.
See Also: