House Painting Color Schemes
Keyed to a Flower
To find inspiration for interior house painting color schemes and beautiful paint color combinations, look to nature.
Nature has done such a perfect job in choosing color schemes for flowers, that you cannot hope to improve on them. A flower based interior house painting color scheme can be as bold or as subtle as you desire. Flowers come in so many colors, you are bound to find at least one that you can use for painting and decorating your home.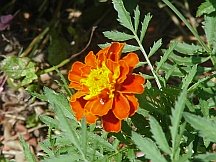 To give you an example, here's what a room color scheme inspired by marigolds can look like. The accent wall of this living room has been painted brilliant orange. If you look closely, you will notice a subtle faux crackled effect with golden yellow base coat peeking through. This finish imitates the frilled edges of the petals, can you see that?
The chocolate color of the suede couch upholstery serves the purpose of grounding and balancing the strong orange wall color. The draperies, ottomans and decorative pillows freshen up the room by bringing in some calm green. Small details like lamp shades add a pop of strong yellow - also a part of the marigold color scheme. Don't you love the effect?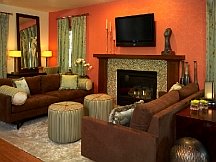 If you have a favorite flower and want to plan your interior house painting color scheme around it, use its lightest shade for the ceiling, and a deeper tone for the walls. The darkest shade - or an earth color - looks best on the floor or furniture upholstery. Use the spectrum of colors between the lightest and the darkest for your draperies. Very often you can find printed fabric which incorporates all the colors you are working with.
By using different materials in the room - silk, suede, leather, glass, stone, etc. - you will create the look and feel of texture that is always present in nature.
Remember that white, gray, or black are good punctuation marks for any house painting color scheme. Touches of gilt or brass are also effective.
So what is the flower that inspires you the most? Surround yourself by its colors and watch what happens!
See Also: