Horizontal Wall Stripes Make a Great Border
by Stephanie
(Virginia, USA)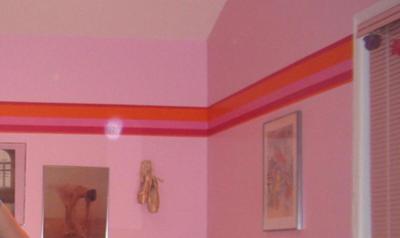 Decorative wall stripes/border in my bedroom
I recently purchased a duvet cover for my bed that had dark pink, light pink, and orange circles on it, and wanted to paint my room to match it, so I chose a light pink color to put as a base on the walls.


I then painted polka dots of various shapes in correlation to the colors on the duvet color on one wall. For the other three walls I chose a border of stripes in the same colors as the circles.
My dad helped me do this by using a laser leveler. We pointed it at the wall and put up tape to how wide we wanted the stripes to be. We painted each one separately and let them dry so we could paint the next one and put the tape on.
It worked really well and wasn't too hard to do. The main problem was getting the tape to stick enough so that the paint wouldn't drip, but it ended up looking just fine.
Click here to share your stripe painting idea and see your name in lights!