Green Paint Colors Are Great For a Nursery
by Lindsey
(Pensacola, FL, USA)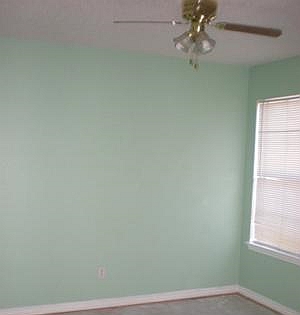 Calm green paint colors are gender neutral
Six weeks ago my husband and I were blessed with the news that we are expecting our first child. Being a self-motivated person that I am, I can't stand to do anything at the last minute, so we decided it was time to prepare the nursery.


We always get our paints at Walmart because they sell Kilz and we've always had good luck with that brand and its ability to go on with one coat.
Since it was still too early to know the sex of our baby, we tried to find a paint that would start out as gender neutral that I could add accent colors to once we knew the sex. The color would also have to compliment the white baseboards and white window blinds.
We looked at many, many different
Kilz
color swatches and finally settled on
"Calm Green"
. We chose Calm Green not only because the name sounded like something that just belonged in a nursery, but also because it was a light variation of a sage green we desired.
Calm Green reminds me of the green in mint chocolate chip ice cream and looks great in natural or artificial light. It really makes the walls pop, yet isn't uneasy on the eyes. Green is a great color for a nursery when the sex of the child is unknown because you can add accents of pink for a girl, or blue and brown for a boy!
I highly recommend Kilz to anyone who seeks a reasonably priced, high quality and fast drying paint. They have thousands of colors to choose from and it cost less than $25 for a gallon!
I do recommend choosing maybe a slightly lighter shade when choosing a Kilz color as once it's applied to the walls, it tends to darken just a touch.
I'm thrilled beyond words and I don't think my nursery project could have come out any better!
Click here to share your paint color idea and see your name in lights!