Faux Painting Technique "Splash Painting" or "Spattering"
by Margaret
(Ridgeland, MS)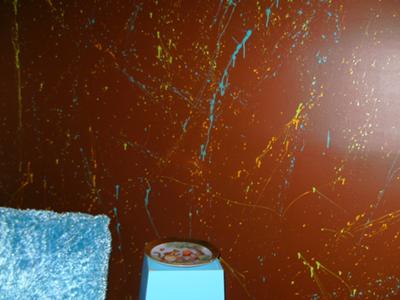 Decorative splash painting/spattering finish
My daughter wanted to try splash painting the walls of her room, after learning the technique in art class. Walls were painted a medium brown, and splash paint colors chosen were orange, bright green and turquoise.


Paints were purchased at a home improvement center. A gallon of brown covered the walls, and a quart of each of the splash colors was purchased.
After allowing brown paint to dry thoroughly, a paint brush (we used a medium sized one) was dipped into the splash paint. We practiced outside on newspaper before trying to splash on walls. Just a strong flick of the arm would give unique splashes on the wall.
The color combination looked very nice. We used less than 1/4 of each quart to complete the splash paint portion.
Each color of splashed paint was allowed to dry before we added the next. There was no dripping. We used a semi gloss finish for the splash paints.
We found this method gave a great updated look for a pre-teen or teen aged person. It was also not so meticulous or time consuming as something like painting stripes or circles, with a lot of room for creativity.
We had ages 7 through 40 helping with the project, successfully. We did splash a little on the ceiling so be careful about covering up the ceiling when splash painting near the top area of the wall.
Click here to share your faux painting idea and see your name in lights!