Faux Leather Paint Effect on My Bedroom Walls
by Minny
(Boston, Massachusetts, USA)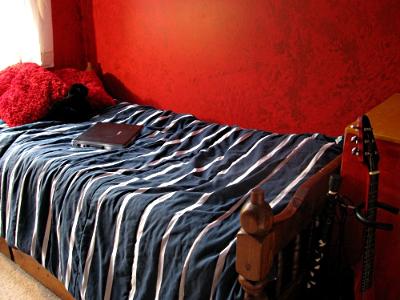 Crimson red parchment/leather painted faux finish
As a teenager I felt controlled by so many events and people of my life. I wanted to break away from the norm, and when I was allowed to paint my own room I was thrilled.


My room had been sponge painted a sky blue when I was very young, and I was ready for a huge change of scenery. I wanted to feel alive, energized, and spontaneous in my own little piece of the family home.
I had a plan in my mind that I wouldn't let my family in on. By the time I had finished, they understood why I didn't tell them. Looking at the completed project though, they approved.
I wanted a bedchamber of brilliant crimson red. The cashier gave me quite the odd look as he rang up my purchase of two large cans of Behr Grenadine Red.
After sanding down my rough walls, I got right to work. The
parchment/leather faux painting technique
took quite a while, but I loved watching my walls transform.
After the first coat I stood back to gaze upon my work. The crimson walls were decorated with a marbled pattern of a darker red where the blue bled through the new paint. I loved the effect, sloppy, elegant, contradictory yet it pleased me.
The doors I coated with a single layer of a bright white, leaving puffs of cloudy sky blue visible.
Finally, I painted the woodwork with a contrasting solid white, and my room was finished. For an all-American touch I chose I blue and white striped comforter that went well with the paint color scheme.
In the end the room turned out to be more wonderful than I could have imagined. I worried it would appear too dark, but with the shades open the room is quite vibrant and light.
Click here to share your faux painting idea and see your name in lights!