Different Shades of Orange Paint Colour on My Bedroom Walls
by Alia
(Mumbai, India)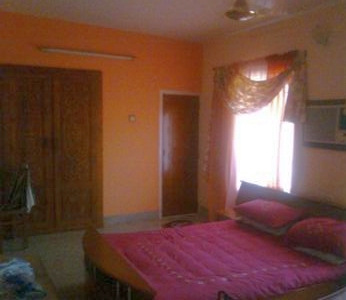 Shades of orange and peach on the walls
When I started thinking about redecorating my bedroom, so many colours came to mind. I've always liked different shades of orange color, because to me they are like sunlight, and I think they make a room look warmer and cozier.


So first I chose a peach colour, because it is one of my favorites. I think peach is a perfect colour for any room, because it is very calming and easy on the eyes. Also, this colour looks great with the dark wood furniture in my room.
But I didn't want to use just one colour for the entire room, because I felt it would feel boring after a few days. So I used a light shade on one accent wall, and picked a deeper shade of orange for the rest of the room.
These orange tones also coordinated with my window treatments. I later bought a bright pink bedspread (because it matched one of the colours in my window treatments), and it added passion and romance to the colour scheme.
I really love how the colours turned out! I find myself spending a lot of time in my bedroom now. It's like my safe haven, and I just feel happy there.
Click here to share your paint color idea and see your name in lights!