Decorative Sponging on My Accent Wall
by Alena
(Galloway, NJ)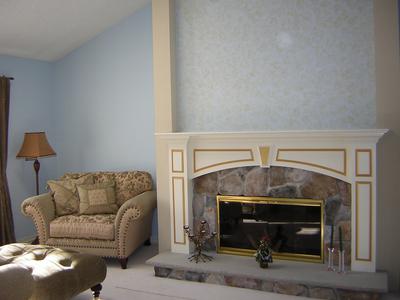 Sponged painting effect on my living room wall
My living room already has a focal point - the fireplace with some interesting architectural structure surrounding it, but I wanted to offset those elements even more.


To do that, I added some gold to the mantle carving, and had the "pillars" painted a tan shade, which I picked out from the upholstery (it is also the color of my lace window treatments, and the decorative stones on the fireplace have this shade in there as well).
The accent wall was painted the same blue color that is on the rest of the walls (although it looks a bit lighter in the photo, because of the flash). Then I sponged on the tan pillar color over the blue, which made the wall look textured, the effect I wanted.
Of course the wall is begging for some artwork, which I already have but it needs to be framed.
But other than that, I think the room now looks very pulled together color-wise, when viewed as a whole.
Click here to share your accent wall idea and see your name in lights!