Decorative Faux Beams
by James
(Cleveland, OH)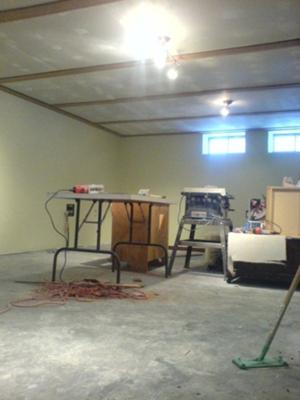 Decorative faux beams
The inspiration for this project was simple economy... I'm refinishing my basement, and we don't have a lot of room, height-wise. We wanted to do something that would extend the visual interest of the ceiling, while giving the impression of a higher ceiling.


I actually found some old hardwood paneling in my newly purchased home. There was plenty of it, and it was just begging to be used. I sanded all the planks down, and applied a natural looking stain. The planks had a naturally distressed look (since they had been in the rafters for 30 years), so I wanted to keep the character.
I created a perimeter around all the walls, and then joined them with "joists" running across the width of the room. Not only does the woodwork heighten the ceiling, but it also helps make the small space look wider.
This photo is a "work in progress" - the main portion of the ceiling will be painted plain white so as not to distract from the unique woodwork.
Click here to share your ceiling painting idea and see your name in lights!