Dark Orange Paint Color in the Basement Bedroom
by Diane
(Bloomsburg, PA)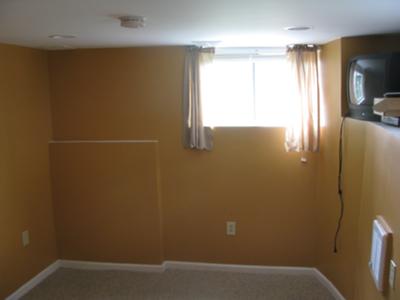 Freshly painted orange bedroom in the basement
When I first purchased my house, this basement room was a disaster! The walls were wood paneling and there was a dirt floor. On top of that, there was a fireplace (YES, a fireplace in the basement!) that was no longer in working order due to the fact the chimney for it had been taken down.


We wanted more bedrooms so we decided to have a contractor come in and pour a cement floor and then sheetrock and spackle the walls for us.
Now, our next problem was that there were three bedrooms upstairs, one was painted a dark blue color, and TWO light blue ones, along with a green and yellow bathroom.
Then, on the first floor we had a bathroom that was painted a light green, a kitchen that was olive green, a living room that was dark red and a dining room that was a pale yellow.
We knew we could not use blue and green paint colors again, and we decided against another yellow as well since all the hallways were yellow.
While we liked the dark red color in the living room, we were concerned that it would be too dark for the basement, so we were left with purple, white, gray and orange.
Obviously gray would be too dark, and all the trim in the house was white so white walls would be super boring, and then we were left with purple and orange.
Personally, I would have loved to have used a light/pale purple paint color on the walls, but decided against it because we would be renting the room out and figured purple walls would turn almost every guy away.
So the decision was made, orange was the only option, and I was not happy. I've never liked the color orange, but I trudged along to Home Depot to look at the paint color samples. I must admit though, the options were not as bad as I thought and I ended up loving the color we picked out.
Since the walls were freshly sheet rocked, we got the new paint from Behr that eliminates the need for a coat of primer to be done first. We were skeptical at first, but it ended up working really well and we only needed two coats, with no primer!
It was a great time saver and a money saver as well.
Click here to share your paint color idea and see your name in lights!